Google Play Books Updated to Allow Synchronizable User-Uploaded E-Books
Google had updated its Play Books app for Android and iOS following the Google I/O keynote yesterday to add features to the e-book service. Now, the app will not only allow users to upload up to 1,000 additional EPUB or PDF format e-books to the Play Books server for free, but reading progress, bookmarks, and notes on the user-uploaded content would be synchronized with the server and across any and all devices that users read with. This would give user-uploaded content the same privileges and benefits as books purchased and downloaded through the Google Play Store.
E-book readers can now upload the EPUB and PDF files they own from their computers or import from Google Drive cloud storage. According to Google, it may take a few minutes for the uploaded content to show up through the Play Books app. Files are limited to 50 MB.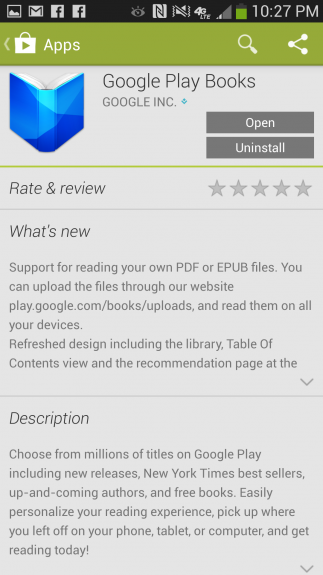 The Google Play Books update also brings a new UI that's consistent with the new Google Play Store design as well as the Google Play Music update.
The update is available now through the iOS App Store or through Android's Google Play Store. The update and the app itself is free.
And though Google says that up to 1,000 EPUB or PDF files can be uploaded free of charge, the company so far has not yet introduced any pricing plan for additional storage beyond the 1,000-file limit.
This latest update is similar to what Google did for music last year when it announced that users could upload up to 20,000 MP3 files that they own to the Play Music server and they can stream songs to a number of devices that they own. This gives users the flexibility of listening to their own music and not have to re-purchase content officially through the Play Store for this anytime, anywhere streaming rights.

As an Amazon Associate I earn from qualifying purchases.