Google Play Movies & TV for iOS Now Available for Playback
Google has released an iOS version of its Google Play & TV App that allows iOS users to play video content purchased on the Google Play Store. Before you head to the Google Play Store on your iOS device to rent a movie though, do note that you can't rent or purchase content through the App. You'll have to do that on some other device or throw a browser to have it show up in your library. That's of course due to Apple wanting a 30% cut of any transaction through the App. If you purchase or rent a movie in your laptop browser, it will show up in your library for you to stream. So, much like purchasing a Kindle book from Amazon, iOS device users need to do their shopping in one place and your content viewing in another. Also be aware that you can't download the content through the App to your iOS device, we're talking streaming only at this point.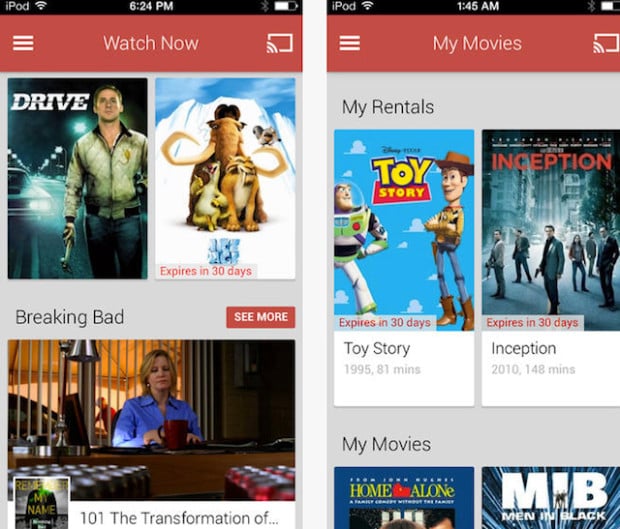 The other big drawback at this point is that the App limits you to streaming via WiFi. So don't expect to watch your Google content over 4G or LTE connection. If you have a Chromecast you can use your iOS device to cast the content to your larger screen. So, for iOS device owners who want to use a Chromecast this App could come in quite handy as one touch of the Chromecast button sends the content to your big screen. When all said and done, think of this App as an iOS player for Google Play video content you purchase through other means.
Remember when there was such a strain been Google and Apple and it looked like we might not see Google's Apps competing on iOS? The conventional wisdom was that Google would want these Apps on to itself to boost its Android platform. Turns out that's not the case. Google now has quite a catalog of Apps available for iOS including: Search, YouTube, Earth, Maps, Gmail, Chrome, Translate, MyGlass, Google+, Drive, Hangouts, Voice, Blogger, Chromecast, Authenticator, Currents, Wallet, and Offers. Google Play Movies and TV joins Play Books and Play Music as an access point to your entertainment content you've chosen to purchase through Google Play.
The Google Play Movies & TV App is available in the iTunes App store for free.