Google Play Music Arrives for Google Glass, $85 Earbuds Included
A few weeks ago we heard reports of the popular Google Play Music streaming service running on Google Glass, and today we're happy to announce it's now officially here for all Google Glass Explorers.
Google Glass, the wearable smartglasses that can do tasks like translating languages or showing incoming messages in real time, to getting driving directions or calling a friend all hands and attention free, is now getting Music options. Back in November Google promised Play Music was coming to the wearable device, as well as some new stereo earbuds for it, and today they're both readily available for all. Yesterday one of Google's own shared the quick details and news.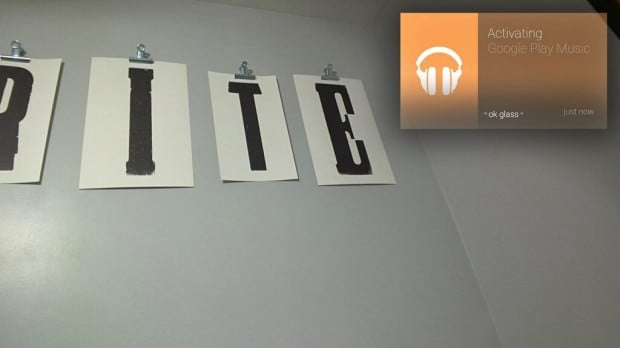 Using Google's already popular music service, called Google Play Music, owners can turn the wearable computing device into their own personal DJ and walking music collection. Streaming any and all music from their smartphone, Google Music cloud, or the millions of always-available songs for those who are paying subscribers for Music All Access from Google. A service that blends the best of Pandora and Spotify music into one service.
So for all you Google Glass users, getting Music on your earwear is actually very simple. Just head to the MyGlass site, or fire up the MyGlass Android app on your smartphone of choice and enable the application. It's that easy. Scroll down past your device info and contacts and you'll find the list of apps officially available for Glass. From there just enable Google Play Music, and Thuuz Sports is another great one while you're at it.
Many Glass users sideloaded the app before it was officially available with ADB, a tool for Android developers, and if you've done that you'll need to remove it the same way, then just enable the new Music app right from the MyGlass application.
To truly enjoy Music on Glass Google is suggesting users buy its new premium earbuds for $85 from the Glass store. They promise to have excellent audio quality and come color-matched to your Glass, available from the GetGlass launch page. Recent Google Glass customers received a single mono earbud with their purchase which works great, but the stereo earbuds should offer even better audio.
Google is slowly but surely improving the Glass experience for all, and have continued to add more features and apps, as well as their promised updates once a month. The December Google Glass XE12 update should arrive any day now. If you've recently been invited to try Glass now would be a good time to jump aboard.

As an Amazon Associate I earn from qualifying purchases.