Google Play Store Update Adds Android L Material Design [Download]
Last month at the annual Google I/O Developer event Android users and developers received their first look at the next version of Android months before the official release for the first time in over three years. Google debuted what will be known as Android 4.5 or 5.0 at the event, but is calling it the Android L release for now.
In Android L users will see a huge shift in the way Android looks, feels, and flows as everything is extremely simple, clean, yet beautifully animated. Menus flow and fade in and out of your view, taps have visual and colorful confirmations when you select things, and much more. All of this is called Material Design, and everyone can get a piece of Google's new design direction starting today.
Read: Android L Release Hands-on Video
Last month Google released a limited Android L beta or early developer preview for select devices, giving users a chance to try the next version of Android ahead of time, but today the official Google Play Store was updated and it's full of the new Material Design user interface guidelines. More details and a download link are available below.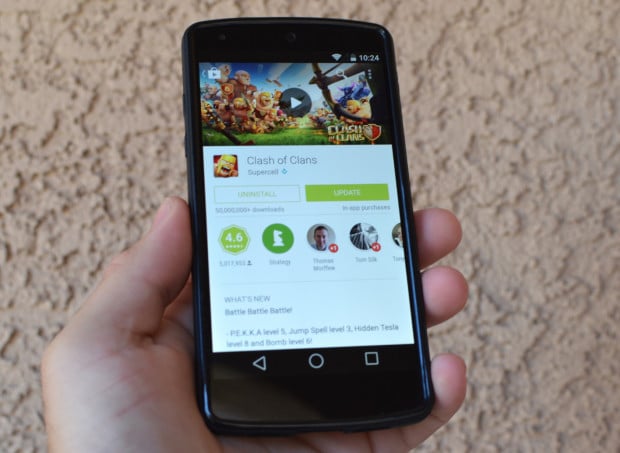 Over the past few years Google has completely changed and overhauled the Google Play Store multiple times. From adding areas specific for tablet users, improving how the Play Store handles music and video, to integrating Google+ into the comment and review system and more.
The Google Play Store has seen its share of changes lately, but today's is one of the biggest ones yet. Last night Google began rolling out the new Google Play Store v4.9.13 with a brand new design in app listings. At first glance the storefront hasn't changed on the main page and storefront, but you'll quickly notice all the Material Design interface changes once you enter an app listing.
The details were confirmed over on Google+, and users can expect to receive an update to the all-new Google Play Store in the coming days or weeks.
What users will be seeing in app listings and context pages with the new Google Play Store is the first look at the Material Design user interface changes and guidelines that will be taking over Android 4.5 or 5.0 L release.
When you head into an app listing you'll see the completely revamped layout. It's hard to say what's new, because everything has been redesigned from the ground up. There's large beautiful images (or a video if available) at the top of the page for instant video previews of a game or app, all the colors blend together and look extremely clean, and as you scroll you'll notice the neat new animation and fading effects Google showed off last month.
App descriptions now go full-screen for easy viewing and less scrolling, as do changelogs. You won't see an apps changelog unless you have it installed, which makes viewing apps and their description easier, and a much cleaner experience. You'll quickly notice all the sliding animations, and badges near the top to +1 or see reviews, look at similar games, or a list of all your Google+ friends that have also installed the same app. It's a very clean and simple experience.
Read: How to Get the Android L Keyboard Now
So how can you get the brand new Google Play Store with material design right now? Google's pushing the update out in phases to smartphones and tablets, and it should arrive in the coming days or weeks. That being said, we know not everyone wants to wait around for it to arrive so we have the app download link below courtesy of AndroidPolice.
Google Play Store v4.9.13 – Download Link
Users will need to download the new Google Play Store using the link above, then just click the finished download to install like any other app. You'll need to have "Install unknown sources" enabled in the "Security" settings on your phone, and that's it. You're all done and you now have the first look at where Google is going with the design and look of Android.
The new Google Play Store isn't finished yet, and only certain aspects have been changed to the new design and layout, and we can expect another update in the coming weeks or months with additional changes.