Google Play Store Changes Prepare For Nexus 5 Launch
If the latest tips, reports, and suggestions are correct Google will be unveiling the new Nexus 5 smartphone and Android 4.4 KitKat sometime tomorrow, followed by a release in early November. We've heard November 1st multiple times, everything is lined up and ready to go, and today Google's made some key changes to the Play Store as they prepare for the release.
With potentially just a few hours between now and when the Nexus 5 hits the Play Store, Google's made some last minute changes to help improve the Play Store "storefront" for potential customers. For those who've been around, the LG Nexus 4 launch was a mess with orders not going through, devices appearing in and out of stock off and on for hours, and more. Google either didn't anticipate the traction and sales, or they weren't prepared. This time however, Google's getting ready for the biggest Nexus smartphone launch ever.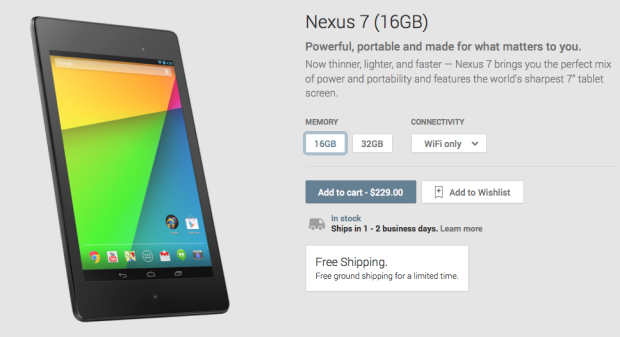 As the Nexus 5 launch nears, we're getting one more confirmation that Google is getting all its ducks in order before pushing the big chocolate KitKat covered GO button and releases the new smartphone to the public. The Play Store device section received quite the overall this afternoon, according to AndroidPolice, showing a brand new layout for device configurations.
Instead of multiple cards below the listing users can select for a completely new page listing, we now have one page with all the options available. This should help the server handle everyone heading to the Play Store to order, as each configuration won't need to load another page fully. There's quick options for storage, and a drop down menu for connectivity. Obviously that will be 4G LTE with the Nexus 5, and the drop down menu will likely have the different carrier options, even though one device will work across them all.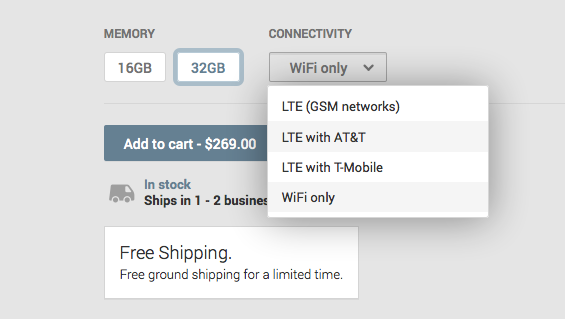 This new layout will help Google offer both the 16 and 32GB variants of the new Nexus 5 much easier than before, and users will also be able to quickly select between the matte black or white model. While this doesn't prove the device is coming tomorrow, it sure makes sense that they'd be preparing the Play Store for an onslaught of potential buyers looking through options and selecting the device and color of choice.
So far this new layout and configuration is only live for the Nexus 7, but we expect the new Nexus 5 to replace the Nexus 4 sometime extremely soon with this new look. It's also possible we'll see a newly improved 4G LTE capable Nexus 4 soon, and a new 2013 Nexus 10. All of these are possibilities that surely Google will address soon enough.

As an Amazon Associate I earn from qualifying purchases.