Google Play Store Makes it Easy for Kids to Overspend
It looks like Apple isn't the only one letting kids spend their parents hard-earned money on app purchases on the App Store, because Android users are facing a similar situation on the Google Play Store.
Last week Apple settled yet another lawsuit for over $32 million in refunds for app purchases and in-app purchases on iOS devices, which caused a few to look into how Google's Android handles similar situations. Turns out, Google's store is wide open. The problem is once a password is entered to accept charges, there's a window where a password is no longer required and kids, or a thief, can ring up as many charges as they'd like.
The problem on iOS is once a parent or family members enters a password to purchase a game or in-app purchase, there's a 15 minute window where users can continue to purchase whatever they'd like. Then, once the 15 minute window is up, a password is once again required. So how's Android? It's even worse coming with a 30 minute window, as reported by Consumer Reports.
Meaning once you put in a password, the Google Play Store is wide open for 30 minutes of app purchases, buying in-game content, and anything else for an entire half an hour. Kids could rack up hundreds of charges with that kind of spare time and freedom, and we see trouble down the road for Google.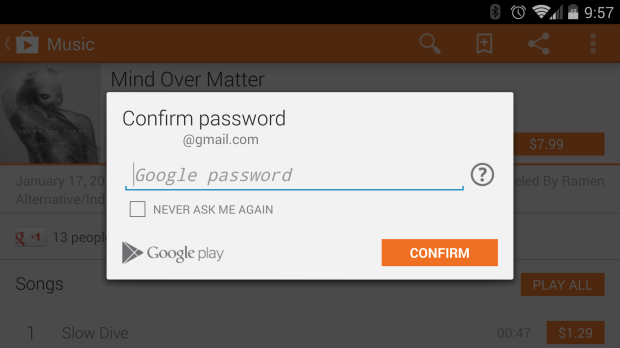 To make matters worse, the Google Play Store doesn't require a password initially, so handing over that new Nexus 7 or Galaxy S4 smartphone could leave parents or siblings in a world of trouble. Below is a few simple steps needed to add a password, which is one step users can take to be protected.
Read: How to Add a Password to the Google Play Store
On the other side, I'm an adult with no kids and if I had to enter a password every single time I wanted to buy another song, that would get irritating, and the 30 minute window has never been an issue. Of course everyone is different and has different needs, but a few simple options in settings could easily fix this problem for both Apple, and Google.
Apple has an option in iOS settings to disable in-app purchases, but you'll still be able to buy apps and games from the App Store itself, and Google has no such option aside from the one password level, which again, gives access to purchases for a full 30 minutes. It's worth noting that Android 4.3 Jelly Bean added multiple user accounts for tablets, so kids could have an account with no such access, which is another approach until a better solution is in place for all situations.
The problem here is some games have in-app purchases reaching $100, like Gameloft's Iron Man 3, and that's just one of many. The other alarming issue is if you put in the password on Android in an app or game, you can then exit and spend away on the Play Store. Two separate areas, but one password was needed to give you full rein.
"We always appreciate feedback and are currently working on new features that give our customers even more information and control over their Google Play purchases" — A Google Spokesperson
The above quote is all Google had to say on the matter, and surely we can imagine some changes will be coming soon to Android's Play Store to protect owners, parents, and even Google from dealing with a situation similar to what Apple faced. In the meantime, use caution when putting a password in for purchases on the Google Play Store.