Google Play Store on Chromebooks: What to Know
Back in May at Google's annual IO developer event the company announced what could be the biggest news for Android and Chrome OS in years. After rumors in April, Google officially confirmed the Google Play Store and nearly 1.5 million Android apps are coming to Chromebooks everywhere. Now that multiple Chromebooks run Android apps, here's what owners need to know.
In 2011 the first Chromebook running Google's cloud-based Chrome OS was released, and they've been gaining steam ever since. In fact, recently we learned that they've passed the MacBook and are now the #2 most sold computers of Q1-Q2 of 2016. To make things even better, now we can run Android apps.
Read: How to Install Android Apps on Chromebook
Google mentioned this idea way back in 2014, but it never happened. Fast forward to now, and that dream is finally becoming a reality. Turning many powerful budget laptops into very capable machines that have a lot more to offer and access to over a million apps.
The company built Chrome OS as a fast, simple and secure operating system for manufactures to create cheap laptops for millions of users to enjoy, and that's exactly what's happening. Most run off hardware found inside a smartphone, offer big 11, 13, or 15-inch displays at a low price point. Often times costing around $199 or $299.
Then Google released the Chromebook Pixel, and a second model in 2015 for $999 that rivaled the highest end MacBook Pro from Apple. With an aluminum unibody frame, powerful processor, beautiful HD touchscreen and USB Type-C. Making it one of the best Chromebooks money could buy, but still limited in potential.
It's official now, as of this summer the Google Play Store and all of it's applications work with select Chromebooks. Not just some apps, but any as long as developers make the necessary changes.
Update: Chrome OS 53 started rolling out (June 16th) on the developer channel, which is an easy toggle for Chromebook owners. This is the version with support for the Google Play Store. The ASUS Chromebook Flip was first, and after the update owners will have the Google Play Store pre-installed and be able to download apps. It also arrived for the Chromebook Pixel and a few others.
In July the update that enables the Google Play Store and Android apps was released for the ASUS Flip, Chromebook Pixel (2015) and the Acer R11. And now in November it's available for the HP 13, Samsung Chromebook 3, Dell 13 and the ASUS C301SA. Remember, head to settings and toggle the developer channel to get it. A stable release is coming soon as well.
When Will Google Play Come to Chrome OS?
In mid-June Google released an updated developer channel "M53" with support for the Google Play Store. Since then we've seen stable versions released followed by developer previews for other devices on the market.
Owners will be able to download and use the most popular Android apps on Chromebooks. Whether that be Microsoft Word apps, Google Docs, Clash of Clans for some casual gaming between essays and work tasks, Minecraft, Skype and more. Essentially any and all Android apps. Including Photoshop for Android, that works too.
As of right now there's a pretty big selection of supported devices, but not all of them have access. We can expect any Chromebook released from here on out to have full support for Google Play.
Which Chromebooks Will Be Supported?
Giving all users on the Chrome OS access to the Google Play Store is a big task, and there are a lot of moving parts. At first select Chromebooks will get access, mainly ones with a touchscreen, since apps need to have users tapping the screen.
The first devices with Google Play Store support were the ASUS Chromebook Flip, Acer Chromebook R11, and the newest Chromebook Pixel (2015). And since then multiple others have received it too. The week of November 14th we saw four more get support.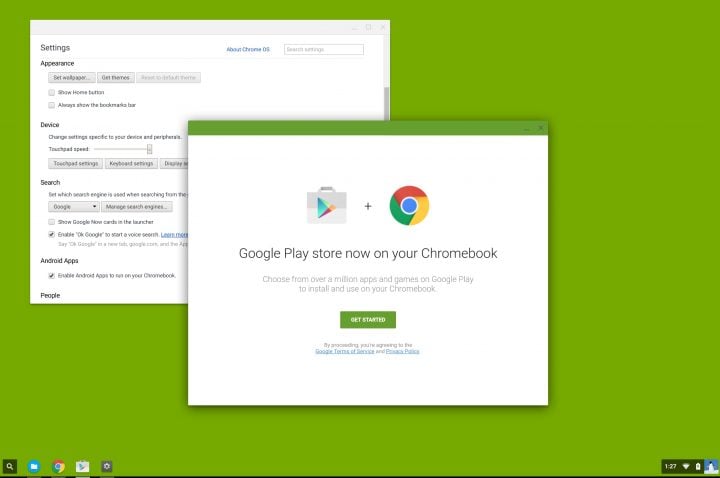 The full list of Chromebooks with support for the Google Play Store can be found here. It's a pretty huge list, with most new models being supported in the near future. If the list isn't completely up to date, it will be soon.
Upcoming Devices
Google went on to state that the company has been working hard with 3rd party manufacturers, likely many big names like HP, Acer, Toshiba and more to build great Chromebooks with the Google Play Store in mind. This means that later this year, or in early 2017 we can expect a slew of releases with full support for the Play Store or Android apps.
How It Works?
Lets just call it Google magic. Everything runs natively on the Chrome OS. Meaning there are no other programs to install or apps streaming. Like Bluestacks. Instead, the Google Play Store appears or needs to be downloaded after the update and that's it. Then all the apps are available.
Further in the announcement Google said, "The same apps that run on phones and tablets can now run on Chromebooks without compromising their speed, simplicity or security. This is good for users and great for developers – in addition to phones and tablets, they will be able to easily bring their apps to laptops."
Apps run, perform, and will be updated exactly the same on a Chromebook as they are on a phone or tablet. It's a completely separate stack that works perfectly with the Chrome OS. Again, the big list of current or upcoming supported devices can be found here. Are you using your Chromebook more now that Android apps are included? Let us know in the comments below.