Google Play Store Update Adds PayPal Support (Download)
Google has been busy lately with tons of updates to Google Maps, improving Hangouts on iOS and Android, and even prepping a release of Android 4.4.3 KitKat, but today they just dropped a brand new Google Play Store with Paypal support.
After years of waiting for something that we expected to arrive much much sooner, this week Google has officially integrated PayPal payment support right into the Google Play Store. When it comes to buying apps, games, music, movies, magazines and more for your smartphone or tablet, Google Play is the best place, and now we have another much needed option.
Read: How to Disable Automatic App Updates on Android
Today on the official Android Developer Blog Google went through all the details surrounding Paypal on the Google Play Store. Paypal payment support isn't the only thing new with Google's Store either, so read on for all the details about the subtle design changes and more.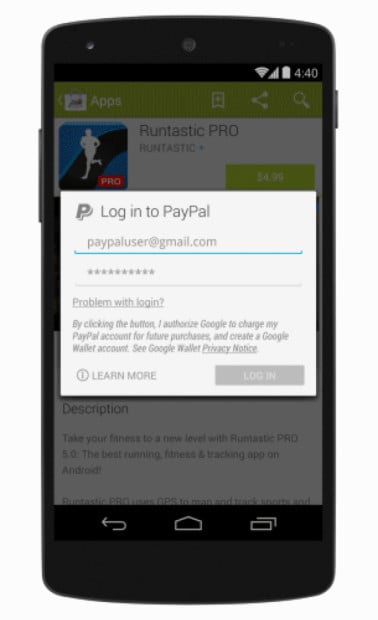 Over the years the Google Play Store has seen a variety of major design changes, feature integrations, and much more, and this is something many users expected to arrive years ago. Being able to purchase games and apps with Paypal makes perfect sense, but for whatever reason it took years to finally arrive.
For those who'd rather not hand out credit card information or attach a device to the carrier for carrier billing options, one of the most secure and widely used payment methods around is now directly integrated into the Google Play Store. The setup is extremely easy and relatively painless, and once done you simply select Paypal at checkout for any Google Play Store purchase.
Google explains that with sales increasing and growing over 300% on the Play Store over the past year, and with two-third's of those being from international users, another payment option was necessary. Below is a look at what they came up with.
The brand new Google Play Store version 4.8.19 has officially started rolling out to user devices this morning, but like most updates as of late, will be a staged and gradual rollout. What this means is that while you could receive the latest Google Play Store with Paypal today, it's possible that your device won't see it for up to two weeks.
Google's staged and slow rollouts frustrate many, but serve an excellent purpose to catch any potential issues before an update or new software goes out to the masses. The Google Play Store updates automatically and this update will require no added steps from the end user. The update will arrive, download, and compete all in the background without user interaction and you won't even notice it happening.
Download
However, if you're like us and don't want to wait for Google's slow and staged rollout, the guys from AndroidPolice have gathered the new Play Store for download. Simply download and install right over the previous version.
Google Play Store with PayPal –  Download
As we mentioned above, while Paypal support is obviously the biggest headlining feature here that many have been patiently waiting to arrive, that isn't all that has been included.
Just like previous releases and updates to the Google Play Store, today's new version brings tons of rather small but important changes. Google's continuously tweaking and improving looks, design, features, and performance, and all of those things have been touched on here today.
What's New
Of course PayPal integration is here, but you'll also notice tons of small but nice little changes to the overall interface. For one, and probably my favorite change, the Google Play Store buttons are all now bigger and easier to hit. Users will instantly notice the larger "Install" button (as shown below) scrolling has been improved, and a new animation for each sections header has been added. The header image for each section is transparent and more seamless, and the image fades in and out as you scroll up or down, rather than just disappearing as you scroll. It's a small change, but the little things matter.
The permissions list has also been revamped, which is the section that Google uses to show what each app can and can't access on a device. This is important as it can show where a simple game or apps is accessing information it doesn't need on a device, which could show signs of something malicious. Of course Google has a pretty great system in place for malware on the Play Store, but better safe than sorry.
The install button isn't the only button that is bigger, throughout the entire Google Play Store all the buttons are larger, more visible, and much easier to tap. This should help prevent accidental install or uninstall situations, and is just better overall.
Read: How to Add a Password to the Google Play Store
PayPal support is the key feature being delivered today, so users will want to grab the download link above and enjoy the latest and greatest. It's worth mention that PayPal payments in the Play Store are currently limited to only 13 major countries, but Google promises more will be added in the coming weeks and months.
The new Play Store also expanded carrier billing to seven more countries today, making that now supported in 24 different regions.
Again, the new Play Store should install right over the original. And that's whether you download it manually from the link above, or just let your phone do it automatically. Get PayPal hooked up and start buying more apps and games.