Google Releases Standalone Docs and Sheets Apps to Compete with Office
Everybody likes a little competition, right? Especially when it comes to document creation and productivity work on tablets and smartphones. Just a month or so after Microsoft released its long overdue and eagerly anticipated versions of Office Apps for the iPad, Google has released standalone Apps for Google Docs and Google Sheets for the iPhone and iPad. In addition Google has released Android versions for smartphones and tablets as well. Google Slides, Google's presentation App, is expected to follow in the near future. Both Docs and Sheets are available for free now from the respective platform App stores. The new Apps go head to head with Microsoft's new Office Apps for the iPad and also with Apples iWork Apps that include Pages, Numbers, and Keynote.
Previously mobile users of Google's productivity Apps could access their Google Docs or Google Sheets documents through the Google Drive App or via a browser on mobile devices. These standalone versions allow users the option of continuing to work within the Google Drive interface or within the new stand alone Apps.
Unlike the Microsoft Office Apps for the iPads, users can take advantage of these free Apps to create, edit, and share documents through the Apps. Microsoft Office users can only use those new Apps to view or print documents. To create or edit documents in the Microsoft Office Apps, users have to obtain an Office 365 subscription. The Microsoft Office Apps are not available as stand alone Apps for the Android Platform, although Microsoft has said these will be coming in the future. Apple's Pages, Numbers, and Keynote are only available for iOS devices.
On a first look, the functionality in the new Google Apps is very similar to the editing, document creation, and sharing capability that already exists through the Google Docs App interface. Users can use familiar commands to bold text for example. Given that the feature set and user interface are essentially the same between the new stand alone apps and Google Drive it certainly makes it look like Google wants to ratchet up the competition. In fact, given that there really is no significant new functionality it makes one wonder why the Apps were released at all.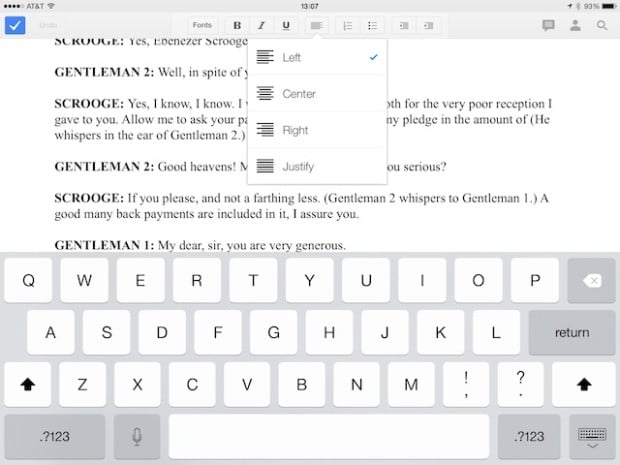 Currently Office Apps for the iPad and Apple's iWork Apps offer much more functionality that the Google Doc versions do. You can't insert pictures or charts for example. These new stand alone Google versions do offer you the option to Print documents via Google Cloud Print or AirPrint. Printing was a feature Microsoft left out of its initial release of Word, Excel, and Powerpoint. Printing capability for those Apps was introduced in updates just yesterday, and iWorks App users have been able to print for some time.
Read: Microsoft Office for the iPad: Review
Users can continue to store and manage documents in the cloud using Google Drive, or they can choose to also store a copy of the document or spreadsheet on their device for offline work if they so choose.
Early Syncing Issues
The new Apps were just released so this may have to do with the newness factor. I'm noticing that new documents I place or save in Google Drive on my MacBook Pro are not syncing over currently to be available in the Docs or Sheets App on either the Android or iOS versions.  Those that resided in Google Drive previously are available, but any new documents moved to that folder do not appear. They do appear as expected in the Google Drive App on both iOS and Android though. Documents that I have made available for offline usage in Google Drive on the iPad are also not showing in either the Docs or Sheets Apps. So that is a curiosity.
Users who want to work with documents on their iPads now have three App and service providers to choose from between Microsoft, Apple, and Google. Android users currently have Google and third party alternatives for Microsoft Office document processing. The Google document creation experience is more streamlined and not as full featured as its competitors, but for many that type of experience is more than sufficient.
Google Docs and Google Sheets for the iPhone or iPad can be downloaded here and here. Both are universal Apps. Docs and Sheets for Android smartphones and Tablets can be downloaded here and here.
Cloud Storage Options
Here's a breakdown of the three Cloud services for Google Drive, Office for iPad and iWork Apps:
Currently users receive 15GB of free storage on Google Drive and can purchase 100GB of extra storage for $1.99 a month, or 1TB for $9.99 a month. Google Drive and Google Docs and Sheets users are not restricted to  a specific number of devices they can install the Apps on.
Office 365 users receive 20GB of free OneDrive storage with their subscription which costs $6.99 a month ($69.99 per year) for 1 computer and one tablet, or $9.99 a month ($99.99) per year for up to five computers or tablets.
Apple iCloud users receive 5GB of free storage and can purchase an additional 10GB of storage for $20 per year with prices ranging up for larger storage capacities.

As an Amazon Associate I earn from qualifying purchases.