Google Reportedly Scraps Plans for Google Wallet Card
All Things D reports that Google will update Google Wallet at I/O next week, but the update won't include the rumored physical credit card the team planned to introduce.
Rumors recently mentioned the Google Wallet card as a method for those who can't, or won't, use NFC for transactions. The card reportedly was all black with the Google Wallet "W" logo on it with raised numbers and a magnetic strip like any other credit card.
According to previous rumors the Google Wallet card would charge transactions to whichever card the user set as the default for the Wallet service. Users would have the ability to change the card's function at any time, essentially making it the only card users would need. The card would also open Google Wallet to iPhone users who can't use NFC payments, and other carriers who don't support the service.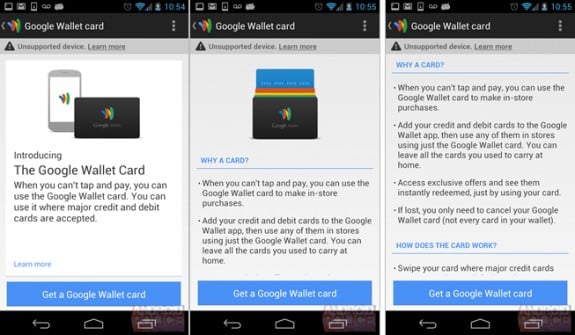 Google CEO Larry Page reportedly canceled the Google Wallet card after a buggy demo of the service that went wrong. Page was also allegedly concerned that such a card wouldn't push mobile payments forward as much as services like Square.
The next update to Google Wallet will likely include updates to rewards, offers and loyalty cards users can store in the service. Google will also likely announce new merchant partners for the services to compete with Apple's Passbook app and Samsung Wallet.
Strangely, however, the new features won't appear in Google Now, which would seem like a logical location for them. Google Now currently stores boarding passes for select airlines and movie tickets from Fandango. It would make sense for the service to offer loyalty cards and offers as well, showing the cards when the user is near a store, like Apple's Passbook.
The Google Now and Google Wallet teams are "siloed," however, which limits the interactions between them. For now it seems to two services won't talk to one another, as much as users might want them to.

As an Amazon Associate I earn from qualifying purchases.