Google Responds to Microsoft's Latest Scroogled Smear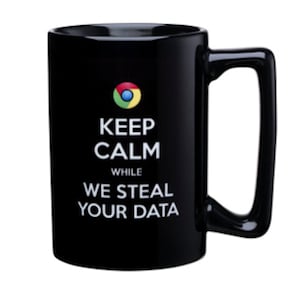 Sometimes a few well chosen words can be worth more than pictures. We recently snickered while we reported on the latest in Microsoft's "Scroogled" campaign against Google. Microsoft unveiled a line of clothing and coffee mugs featuring the Chrome logo floating above the slogan "Keep calm while we steal your data." Witty, yes, but many took it as a sort of self-demeaning reach by Microsoft in its continuing efforts to frighten customers who may be concerned about privacy and data security away from Google's products.
Well, it turns out there are a few wits among all those Google engineers after all. According to The LA Times, Google chose to respond with words issuing this choice quote:
"Microsoft's latest venture comes as no surprise; competition in the wearables space really is heating up. "
I don't think an algorithm came up with that. It's a pretty clever and sharp retort from the firm that wants to make wearables the next big thing in 2014. It certainly suggests Microsoft's best shot at wearables may be t-shirts, while Google continues to excite with Google Glass. Microsoft is rumored to be working on its own wearable initiatives, but we've yet to hear anything substantial about products.
One thing is for sure. Microsoft and Google are going to continue to entertain with this kind of back and forth that we haven't really seen since the days of I'm a PC and I'm a Mac.

This article may contain affiliate links. Click here for more details.