UPDATED: Did Google Goof Again-Google Rolls Out Updates to GMail for iOS, But Not Seeing Them Here
So, did someone throw the wrong switch or am I just a doofus? (Let's confine those comments to the subject of this post and not in a general sense. I already know I'm a general doofus.) Google rolled out some changes to its iOS App for the iPhone, iPad, and iPod Touch. The changes include the ability to set a custom signature for mobile emails along with a vacation responder as well as the ability to doodle (or scribble as Google calls it) a message.
All well and good. But according to the Official GMail Blog, you access these new features via a Gear Icon that shows up when you access the menu.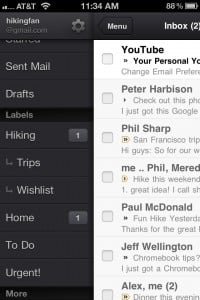 You can see in the picture below where that icon is supposed to be.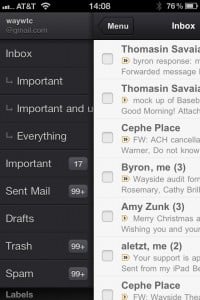 And in this one taken from my iPhone you can see it doesn't appear after updating the App. I'm seeing the same behavior on the iPad2. Note that Google has had some difficulties in the past with this App and other iOS Apps, so it wouldn't surprise me if there is an error. Although I'm not seeing any reports of such. So, it could just be me.
Weirdness.