Google Search Update Brings a Smarter Google Now
Last week reports suggested Google was preparing to update the Search and Google Now app for Android with a serious overhaul and additional features. Today this update arrived right on schedule, rolling out late last night to Android devices, and users can now expect a smarter and more chatty experience.
Google Now is already one of the most powerful and best features of Android, and today's update detailed by Google is making it even smarter. All the usual goods will now include a conversational experience similar to Siri, bringing one more feature to the digital assistant. On top of that the Google Now Cards have been added to with "What to watch," News topic," and "Website update" joining the growing list.
Website cards will share the latest post from blogs and sites you frequent, all automatically before you even ask, if you'd like. The What to watch will give you movie and TV recommendations based on previous history, searches, and more. Last, news topic cards will give you the latest and breaking news from around the web. I'm already automatically getting sports and NFL news delivered right to Google Now on the Nexus 5. It's quite powerful and accurate.
The chatty experience mentioned last week also arrived, and now when users tell Google Now to "Call Chris" or send a message, Google Now will give you an audio response when needed, asking "which Chris" then re-enables the microphone to listed to a more detailed request. Below you'll see a simple search to text Chris turned up multiple suggestions, and asked who I'd like to send a message to.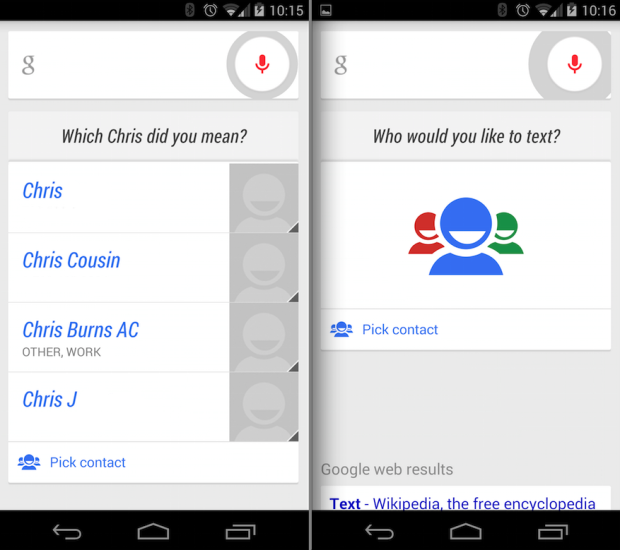 This latest update adds one more hidden feature. The Google Experience Launcher exclusive to the Nexus 5 can be added to your Android 4.1 Jelly Bean and above smartphone after this update to Google Search. The launcher still isn't available from Google, even though reports suggest it's headed to the Play Store, but read on below to get it yourself.
Read: How to Get Android 4.4 KitKat Nexus 5 Launcher
Last but not least, the "Ok Google" voice commands from the Moto X and Nexus 5 are now available for all Jelly Bean devices with the new Google Search app. You'll have to be on the homescreen or in Google Now, as it isn't completely a hands-free always listening mode, but should help users ask Google Now questions and commands with ease, more hands-free than before. Get it today from the Play Store.