Google Shuts Down Regional Motorola Websites
'Think global, act local' will not be the mantra for Motorola Mobility any more as Google has begun the process of shutting down various regional web portals for Motorola Mobility in various countries around the world. In an effort to streamline the Motorola business, Google will operate just one worldwide site for Motorola Mobility with various products all lumped together.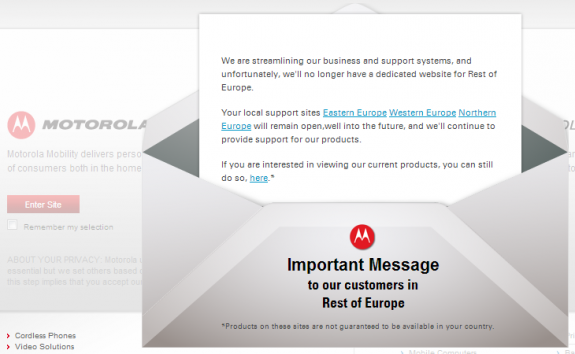 While the move may be more efficient from an operational standpoint for Motorola, which is still losing money, the efforts to consolidate to a worldwide website for all countries may be problematic for consumers. As smartphones are often offered in various variants internationally, with not all variants being available in any single country, it may be difficult for consumers who are searching for devices to know which devices are available to them in their specific region or country. For example, in the U.S., the Motorola RAZR i, which is a variant of the Verizon Droid RAZR M with an Intel Atom processor, is not available.
According to The Next Web, users who head to Motorola's website in Asia, Europe, the Middle East and Africa, Hong Kong, and Taiwan will be redirected to a page that says that they will be re-directed to a global page.
The move is rather unsurprising given Google's intent in its acquisition of Motorola Mobility was for the latter's patent portfolio to strengthen Android against lawsuits and not for Motorola's consumer business. And despite still rolling out smartphones and tablets under its Nexus brand, Motorola has not been selected as a Nexus partner since the acquisition and the last 'Nexus' device from Motorola was the original Motorola Xoom tablet.

As an Amazon Associate I earn from qualifying purchases.