No Big Surprise: Survey Finds Tablets Are For Play, Not Work
Google recently released the results of a survey that tracked how people use their tablets. The discoveries aren't very shocking, especially to those of us who own tablets. I just wonder if this data will cause tablet makers and app developers to cater more to what people do with the devices now or try to expand their usefulness beyond the home.
The main finding of the survey is that tablets are for relaxation and entertainment. "…91% of the time that people spend on their tablet devices is for personal rather than work related activities. When a consumer gets a tablet, we've found that they quickly migrate many of their entertainment activities from laptops and smartphones to this new device."
These "entertainment activities" don't appear to include a lot of video watching, as the chart below doesn't include it. But it does include the other activities you'd expect, such as checking email and playing games.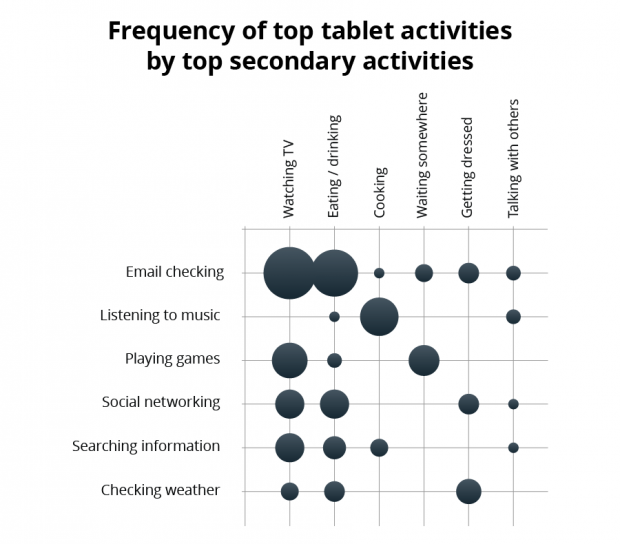 When it comes to productivity, people switch back to their laptops. Also, using tablets at the office isn't very popular. Probably because it's easier to hide a smartphone.
This study, like others, shows that most people leave their tablets at home even though they're pretty portable. Guess that makes the need for featherlight and ultra skinny tablets seem silly, doesn't it?
What this data doesn't tell us is why people don't use their tablets for real work. One reason may be that people like having separate devices for work and play. I suspect that a bigger reason may be that tablets fall down on the productivity front due to the lack of robust apps for this purpose.
Does your tablet usage fall into these general patterns, too?

This article may contain affiliate links. Click here for more details.