Google Targets Spotify, Pandora with Google Play Music All Access
Starting soon, Android users will be able to listen to their favorite music with Google Play Music All Access, the new Google subscription music service.
According to today's announcements Google Play Music All Access will allow users of Android devices to stream music directly to their Android powered phones and tablets for the $9.99 a month. Instead of creating a new application, Google Play Music All Access will be integrated into the company's existing Google Play Music Store.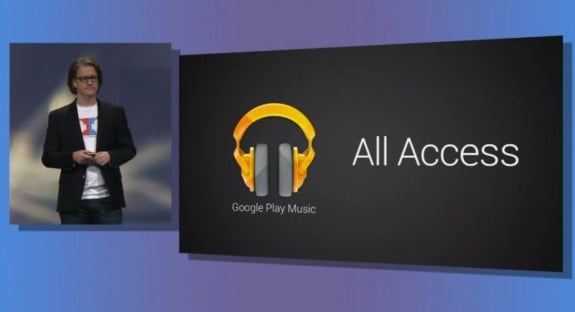 Read: Google Introduces New Music Beta Service
In addition to streaming individual albums and tracks that users know they want to listen to, Google Play Music All Access will include a backend service that will help users automatically discover new music that they might not have otherwise found. Google Play Music All Access will also combine the music stored on user's Android devices and music they've listened to on the service to create one unified music library for the user that they're able to search.
Google Play Music All Access users can create radio stations that focus on particular artists and songs, and share them with other users. The service will also curate content and playlists for users as well.
Starting today, users can sign up for a free trial, and will only have to pay $7.99 a month if they choose to stick with the service. That discounted offer expires on June 30th.
Google Play Music All Access joins a handful of other services offered immediate competitors like Pandora, Spotify and smaller companies who are all vying to be users' destination for music.
Pandora allows users to create stations by typing in a specific song or artist or listening to the service's stations that are separated by genre. When listening, users can give the service feedback on the music it's providing to them by rating it. That feedback is then used to fine tune the music the service is streaming to that particular user.
While users can't really control music playback, giving a song a "thumbs down" rating will make the service immediately move to the next song. Users are only allowed to skip a particular number of times before the service turns the options off.
Free users are only able to stream from mobile devices like iPhones and Android devices for up to 40 hours, unless they subscribe to the service for unlimited streaming at a price of $3.99 a month. Free users also have to contend with advertisements in-between tracks.
Read: Spotify Brings Free Streaming Radio to Android
Spotify allows users to stream individual tracks and create a cloud collection that's available on traditional computers, for free, though it also requires those users to sit still for advertisements. For $4.99 a month users can get rid of the services advertisements on traditional computers and for $9.99 users can stream music to Android and iOS powered devices as well.
While both Google Play Music All Access and Pandora require an internet connection, Spotify's highest tier subscription services allows users to listen to music offline.