Google to Deliver Tablet-Optimized News
Google is getting serious with tablet UIs, especially now that the company has waded into the tablet space with its own branded Nexus 7 and Nexus 10 tablets. In a recent announcement, Google has announced that it will be bringing a better news experience to the tablet space with Google News.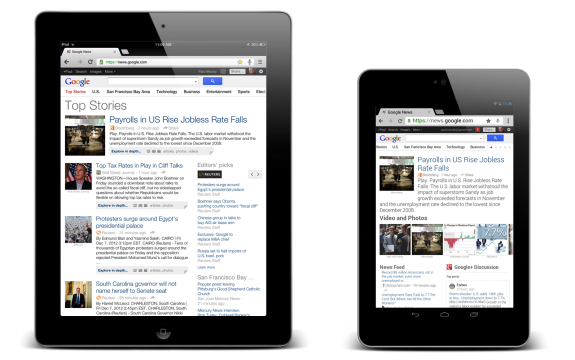 The company says that users will now be able to:
You can find new articles, news sources, and even topics of interest with intuitive gestures. Swipe horizontally between sections – from Business to Entertainment, for example – or tap "Explore in depth" to see multiple articles and other info related to a particular story.
We've also added more breathing room between articles, making it easier to spot the stories you really care about.
The experience, however, won't be delivered via an app, but rather Google will optimize the Google News experience when readers visit the page through a web browser.
According to Google, the new experience has already begun to roll out and full deployment will happen over the next few days when U.S. users visit news.google.com on their tablets.
Google's focus on the tablet segment is noteworthy as there hasn't been as many tablet-optimized apps for Android. This was cited by many industry insiders as one of the reasons why Google had entered the tablet market itself with its own Nexus brand–to spur development of tablet apps. Apple had cited the lack of tablet-optimized apps as a key benefit to going with iOS and the iPad at the company's unveiling of the iPad mini tablet.

As an Amazon Associate I earn from qualifying purchases.