Google Unifies Gmail, Drive and Google+ Photos Storage Space
Google users may find a bit more storage space in their Gmail, Drive and Google+ Photos soon as Google unifies the storage space for all three.
Google announced on the Google Drive Blog that it will soon gives users 15GB of free storage space across Gmail, Google Drive and Google+ Photos. Previously users would have 10GB of storage for their Gmail account and 5GB for Google+ Photos and Google Drive. Now users can use their free storage from Google however they want across the three services.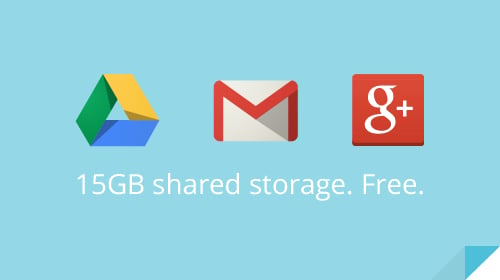 The new unified approach to storage is useful for users who use just one service a lot, but barely touch another. For example, someone who doesn't get a lot of email in the Gmail account may take a lot of high-resolution photos they want to store online can use more storage for photos instead of email. Previously those users would have to buy more storage for the service they were using a lot.
Along with the new unified storage Google will change its storage upgrade options. Users will soon be able to upgrade their 15GB of unified storage to 100GB of storage for $4.99 each month. The change also eliminates the 25GB upgrade limit on Gmail, which is good news for those who get a lot of email.
Some users will see the new unified storage now, but others will have to wait to see it on their accounts. Google will rollout the changes to users over the next few weeks.
With the new unified storage Google Drive now offers more free storage than Dropbox or SkyDrive, though it has to share that storage. The change may make Drive better for users looking for cloud storage, unless they get and store a lot of email in the Gmail account or upload a lot of photos to Google+.

As an Amazon Associate I earn from qualifying purchases.