Google Unleashes 'Near Me Now' Local Search for Mobiles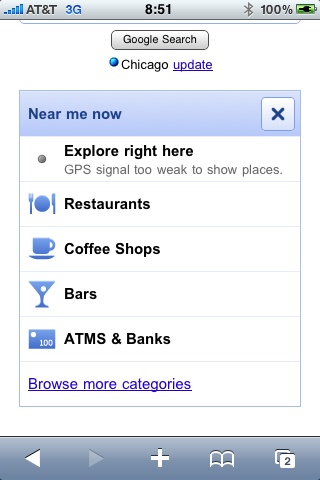 Google has released a location based service called Near Me Now for mobile phones and it pretty much works as advertised. This is a bit different than Latitude which has been out for some time now. Once you activate location services when you go to the Google Home Page on your mobile you are presented with a Near Me Now choice under the search box. Clicking that brings up options that let you search for Restaurants, Coffee Shops, Bars, and ATMs and Banks (I guess so you can get the cash to hit the restaurants, coffee shops and bars.) There is also a Browse More Categories selection as well as an Explore Right Here option. At the moment it is working on the iPhone and Android platforms.
Checking it out it seems to provide what it says it does, and of course this is another those free Google applications/services that pretty much threatens other apps that do the same kind of thing. Video after the jump.