Google Voice Update Makes App Less Useless For Non-Jailbroken iPhones
Google's update to the Voice app for iPhone brings with it several nice features that Android owners have had for a while, including multi-recipient texts. The big news here is the Sprint integration, which allows users to  send GV calls to the native dialer, just as on Android. Also, incidentally, just like jailbroken iPhones.
For those lucky Sprint customers, it just got a lot easier to use your Google Voice number as your only one since you can now send and receive calls from it. Plus the free texting.
Too bad that deep integration only works with Sprint.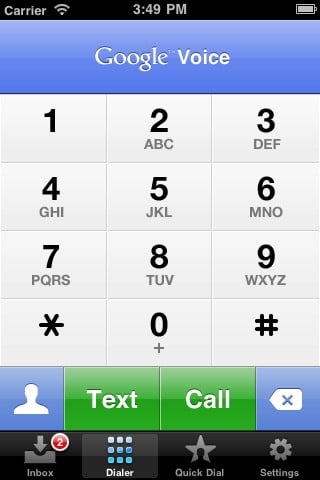 Other upgrades in this update include contact autocomplete, multi-line text entry, character count, and  one-touch copy/paste in dialpad. Most of these are minor, but help a great deal when using Google Voice as your only means of text messaging.
Sadly, this update still doesn't compare to the deep, Android-like integration you get with Phone GV Extentions, which is only available for jailbroken iPhones. Google Voice for Android is awesome, Josh and I agree, and I use my GV number now instead of my home or mobile ones. Will non-rooted iPhones ever see that level of convenience and integration across the board? I guess it's not high on Apple's priority list (or Google's).
Download or update the app from iTunes for free.
Now that Google Voice is less useless, will more iPhone owners create accounts with the service?

As an Amazon Associate I earn from qualifying purchases.