Google Voice Hangouts integration Progressing Slowly
It's been expected for a while now that Google Hangouts would fully absorb Google Voice at some point, and a new feature launched today moves the process along one step further.
Google Voice developer Alex Wiesen shared in a Google+ post that the company has added the option to call someone using Hangouts from the Google Voice website interface. Plus, it won't require a Google+ account. In order to use Hangouts in the first place, users need to have a Google+ account set up, but Wiesen says that if you're calling someone using Google Voice via Hangouts, you don't need a Google+ account.
To get the new feature to work, simply visit the Google Voice website (you'll need to set up a Google Voice number of course) and click the Call button in the left-hand sidebar. You'll type in the number you want to call and then you'll select Hangouts from the Phone to call with drop-down menu.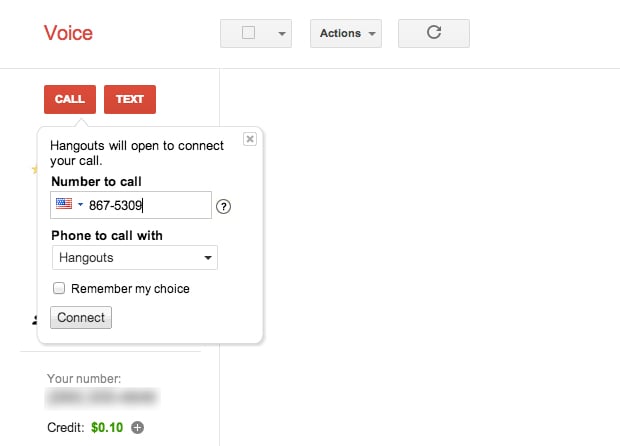 If you're confused as to how the Phone to call with feature works, it essentially transfers calls that you want to make to your actual phone that you have set up with Google Voice. For instance, I have my iPhone connected with my Google Voice account, and I can simply select my iPhone from the drop-down menu. From there, Google Voice will call my phone, and then when I answer, it'll begin calling the number that I typed in on the web interface.
However, when you select Hangouts from the drop-down menu, a Hangouts window will open up automatically where you'll then be connected to the number that you entered. From there, it'll be just like making a normal Hangouts audio call from your computer.
This is new minor feature makes Google Voice one step closer to being fully integrated into Hangouts. It's been rumored for a while now that Google Hangouts would absorb Google Voice, and the Voice brand would then be shut down. However, this has yet to happen even after there have been several updates to Hangouts that further add Voice features to the app.
Google Voice has been one of the few apps and services that Google has largely ignored over the last couple of years in order to put more focus on Hangouts, Gmail, Maps, etc., but that's not too surprising for the most part, seeing as how Google Voice is a fairly niche service that probably only a minority of users actually take advantage of.
An update to the Hangouts app back in October of last year added Google Voice integration with the ability to make and receive phone calls. It doesn't include SMS, MMS, or voicemail capabilities, but those using Hangouts will be able to make phone calls right from the app, which is perhaps the most important feature anyway.
Hangouts users can see which of their friends are using Hangouts, and who can currently be reached. The update even provided iPod Touch users with the ability to make and receive phone calls right from Hangouts, which are free if placed inside the US and Canada. And of course, calls placed will use your Google Voice number, and there's no need to set up the integration; it'll automatically detect your Google Voice number from your Google account.
Furthermore, the update also gave iOS Hangouts users the ability to send and receive animated GIFs that automatically play inline, adding onto the update previously where animated GIFs were added to the desktop web version of Google Hangouts. Also, the update included the ability to temporarily turn down your music (instead of stopping it) when you receive an incoming message. We're guessing this is a subconscious thing, where you can still bob to the music without it randomly pausing and messing up your vibe.