Google Voice Turning Off Obihai and Other External Services
Google Voice works great as a free or extremely low-cost VOIP solution, and many use it as their primary telephone service thanks to devices like the one from OBihai Technology that we reviewed a while back. Google set a date when they will turn off XMPP service. XMPP service makes it possible for some apps and other services to connect to Google Voice without using the company's website interface. Because of this, convenient devices like the OBi202, a cool product that lets users connect a traditional phone to the Internet and send or receive calls using Google Voice, will not work with Google Voice after the cut off date.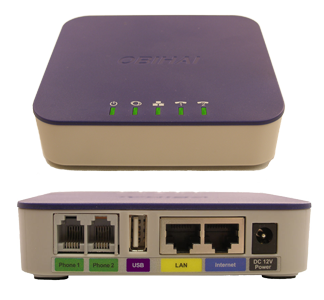 With the OBi202, we forwarded our home line to a Google Voice phone number. When grandma called, we got a call on the DECT 6.0 wireless phones in our house. The call quality compared well to a land line and helped us save some money on local phone service. Sadly, Google will turn this off on May 15, 2014. That gives users plenty of time to switch to another service which does work with OBi202 and OBihai's service.
We suggest that users find an alternative soon so they don't lose service. Adding a line to a bundled Internet and Cable TV service might keep users from paying more than they do now for just TV and Internet. OBihai offers a list of alternatives that work with their device. If cost savings isn't the concern, then forward a Google Voice number to a mobile phone with Bluetooth and connect it to the Obi202 device, which will ring the traditional home phones connected to it when a call comes through the cell phone. Enthusiasts may want to consider this solution, since it gives us a reason to carry another great handset. A cheaper alternative is to get a low-cost VOIP service. A friend uses Magic Jack and loves it.

As an Amazon Associate I earn from qualifying purchases.