Google Voice Update Brings iOS 5 Crash Fix
Just a couple of days ago, it became apparent that the Google Voice application on the iOS App Store had disappeared. At first, it was a mystery.
Then, Google's Senior Product Manager for Google Voice Vincent Paquet confirmed that the application had been pulled intentionally saying that "our last update of this week had a bug that caused the app to crash at sign in. We removed it so it did not affect additional users until the fix gets published."
It has been three days since then but the application has made a triumphant return to the App Store with an update that fixes that sign-in error.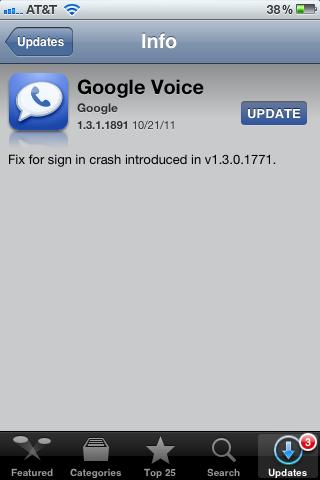 If you installed the app before it was pulled, but haven't recieved a call via Google Voice, you should make sure that your phone was actually set up by logging in to the Google Voice settings in your browser.
So, if you're on a device running iOS 5, have been experiencing issues with iOS 5, and you already have the application installed go ahead and check for the update. It should be ready for installation.
For those that are looking to get the application, it should return to the App Store in the near future.

As an Amazon Associate I earn from qualifying purchases.