Google Wallet Leak Hints At Physical Credit Card
The next version of Google Wallet will come with a physical credit card for easier transactions according to an Android Police report.
Android Police says an anonymous tipster sent them images of the next version of Google Wallet which mentions the credit card. The images from the leaked app say the credit card will link the a Google Wallet account and charge whatever card is the default in the account. Users can open the Google Wallet app to change which card the service charges when they swipe the Google Wallet Card.
In addition to credit cards the new Google Wallet app will also let users transfer money to other people and hold a "Wallet Balance" which is likely similar to the prepaid cards available now.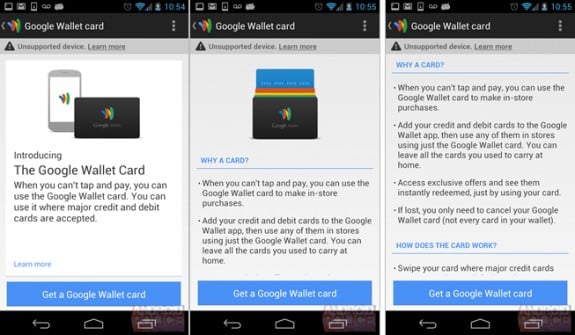 The app will also let users add transit cards. It's not clear how transit cards will work, but the feature should help users who typically carry around a card for a subway or rail line in addition to credit cards.
The new Google Wallet Card will make it easier to use the service, as it will work anywhere that accepts major credit cards. By distancing the app from NFC Google will also let users on carriers like AT&T, Verizon, and T-Mobile use the service without buying an unlocked device.
This new version of Google Wallet also explains why Google was asking iPhone users to sign up to test the next version of the service. The Google Wallet Card means iPhone users don't need to buy any accessories to enable NFC while still make the service easy to use. A Google Wallet Card would make it easier for users with iPhone wallet cases to only carry one credit card, an ID, and some cash.
It's not clear when Google will start inviting users to the new Google Wallet, though this leak means the rollout may have already started.

As an Amazon Associate I earn from qualifying purchases.