Google Wants to Sell You a Car
Google has launched a test program in California that allows people to search for cars at dealerships without having to leave the Google search page. Similar to services offered from Autotrader.com and Cars.com, the Google car search would allow people to find a vehicle, view the price, play around with configuration and be directed to a local dealership where that vehicle is available.
Presently, if someone were to search for a vehicle on Google, several of the results would be to Autotrader or Cars.com. Similar to how services like Kayak aggregate that information into one location, the Google system will provide all of the relevant information. This could potentially damage the other automotive sites because people who start their search for a new vehicle on Google will never leave Google. Also, auto dealerships would be paying Google directly for leads, lowering the advertising and sales dollars being pumped into those sites.
Similar to searching for a restaurant on Google, if a person was to type in "Ford Focus San Francisco" the person would be presented with a screen allowing them to set up search parameters.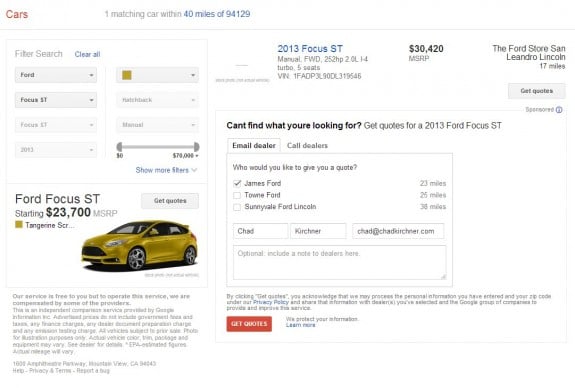 To better understand the implications we asked Mike Correra, a sales manager in Southern California, his thoughts on the Google approach. Being in SoCal, Autotrader is the company to be listed on, even if the search starts on Google. "For many years Autotrader has been such a force here in SoCal that most dealers are paying for their program simply because they are the biggest boys on the block and NOT being on Autotrader means NOT being seen online," he said.
Surrendering from one overlord to another, Mr. Correra is concerned about the information provided to him. "It is my understanding that Google will sell the lead to dealers only as a specific request for a vehicle and withhold all the contact info of the customer," worries Mike. Sales leads are important to the auto sales model, even if customers might like the idea of the dealership not having all the contact information.
However, Mike tries to be forwarding thinking and sees Google as a potential advantage. "On one hand I am worried that Google will be the new big boy and NOT buying leads from Google will mean NOT being seen; however, that is balanced by the hope that BECAUSE Google is the biggest show online it will be the place to be," he says.
It will be interesting to see how people respond to the program once it goes live in the rest of California. This particular sales model keeps dealerships in place but gives the customer a more direct buying approach, which customers may really enjoy.

As an Amazon Associate I earn from qualifying purchases.