Google Will Let Developers Replace Apple Maps in iOS
Google recently announced it will open the Google Maps SDK to iOS developers so they can use Google Maps in apps instead of Apple Maps.
The new Google Maps SDK will include "support for ground overlays, gesture control and geodesic polylines." That means iOS developers will be able to use many Google Maps features inside their own apps.
When Apple released iOS 6 it replaced the Google-powered Maps app with its own Apple Maps. At the same time it replaced the MapKit embeddable maps available to developers with the same maps. Developers were free to use their own Maps, but doing so wasn't easy at all. That meant that many developers just switched to Apple Maps.
Now developers will have to option to switch the new Google Maps for use inside their apps. The maps will not only replace the mapping tiles found in apps, but also that data. That means location-aware apps can get more reliable data from Google, which will help both the developers and users.
The process to switch maps is likely an easy one for developers from the way Google describes it. That doesn't necessarily mean it will be easy, however.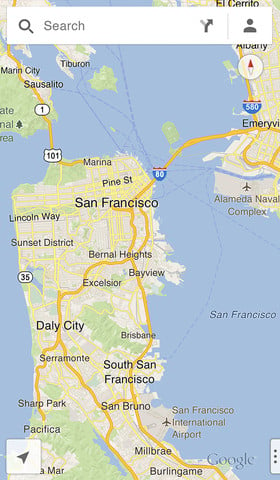 The new SDK is just another example of how Google is slowly gaining more influence over iOS through its apps and services.
In addition to the popular Google Maps app, Google also has Chrome for iPhone and iPad. Users can't make officially make Chrome their default browser, but there are ways around that. A number of apps including the popular Tweetbot and Gmail let users open links directly in the Chrome browser without ever opening Safari.
With the new Google Maps SDK eventually iPhone users may not have to see any Apple service they don't like or use.

This article may contain affiliate links. Click here for more details.