Google's Android TV to Join the Set Top Box Madness
Google really wants to get TV. Just like everyone else, Google wants your eyeballs on content you view on your TV piping through its servers. Google has brought out several new revolutions from Chromecast to Google TV, which was a revolution that died before any barricades could even be erected. Now it looks to be trying a slightly different tack with Android TV. Perhaps it is rebranding, perhaps it is a different. Regardless, we've been hearing word about it for awhile.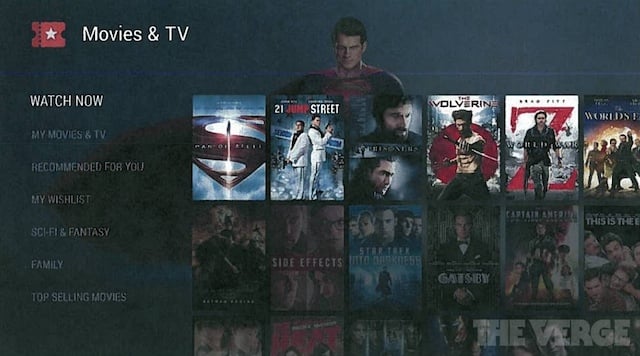 According to an exclusive report from the Verge, Android TV looks like Google's attempt to mimic Apple TV, Roku, and the newly on the market Amazon Fire TV, but without trying to do much more than bring you entertainment. Simple is the buzzword. The Verge got its hands on some documents that outline the possible venture and from the sound of the report, it looks like consumers will have yet another small set top box to choose from sometime in the future. This news from the Verge comes on the same weekend that we hear about documents revealed in the ongoing Apple/Samsung court case that mention some of Steve Jobs' thoughts regarding Apple TV.
In a very Android-like way, you'll scroll through cards that sit on a digital shelf with a remote. It sounds like it will all look very familiar to anyone who has used Netflix, any other online entertainment service, or an existing set top box from another maker. Android TV will supposedly support voice input and deliver notifications. The Verge post mentions that Google is trying to steer developers towards using notifications on a very limited basis. It doesn't take much imagination though to conjure up thoughts of notifications happening more frequently than anyone would want.
What sounds like it wants to be a key is that Android TV wants to suggest content to you instead of having you scroll through a range of choices within Apps.
"Access to content should be simple and magical," reads one Google document, which adds that it should never take more than three clicks or gestures to go from the homescreen to enjoying a new piece of content. Even search appears to be secondary to intuitively understanding what you want and delivering it as soon as possible, though search will be still be one of Android TV's primary tools.
I don't think anyone would argue with the simple and magical part. But no one has been able to deliver on that dream yet. Even the most celebrated recommendation engines seem to be full of confusion, or at least easily confused.
Perhaps you're wondering what this means for Google Chromecast. Apparently Google wants to have a dongle and a set top box both. Nothing like hedging your bets. Especially when you have bombed on big plans like this before. But then again, there's Android and Chrome.
Certainly it will be worth watching, assuming the reports are true. As the big players all strive to own your HDMI ports on your TV, the real moneymaker might be to invest in those companies that build HDMI switchers.