Google's Auto Awesome Year in Review Crossed the Creepy Line for Some
Google's Auto Awesome feature for photos is certainly one that grabs your attention. Originally launched as an online feature that would improve your photo experiences, Google introduced a few holiday themed features that offered some fun eye candy. One of those brought animated fall snow to any picture that contained snow in it. (Click on the picture below to see that happen.) The second added an animated twinkling to any picture with Christmas lights. All well and good, and certainly a neat way of promoting the feature as Google wants you to use its online photo services to store your photos. It is certainly a fun enticement.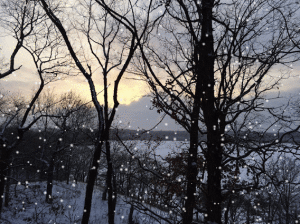 Google also introduced a year end Auto Awesome feature that picked a group of your photos and videos from the past year that you had uploaded to its serves, put them into a video montage accompanied by music and presented it to you with that music playing in the background. Think of it as your personal year in review. By the way Facebook did a similar thing with your photos on its service. Google calls this Auto Awesome story telling.
Honestly, I didn't think much of this beyond the fact that it was something neat. But in showing the video Google compiled about my 2013 to lots of friends and family over the last several days I apparently was in a distinct minority.  The reactions varied from the "how do they do that?" to "that's just too creepy" all tinged with at least some negative vibes associated with them. At least one family member requested I not include them in any pictures going forward with Google or Facebook. He's one of those young adults who is concerned about these kind of things being around when he goes job hunting.
We talk about the "creepy line" when technology veers too far into the personal. Usually that's referencing things like context aware services or location services that seem to know who we are and where we are. I can say that with the 20 or so folks I shared this Google Auto Awesome with, all thought this was a Google Auto Awesome step too far.
What do you think? Did Google or Facebook compile your year for you and present it in a tidy package? Do you think this is a good thing or not? Here's another question, did they catch the right memories for the year? Or, as in my case, did they miss some that I thought should be included? But then, that's those algorithms don't always know what's in your heart, now do they?