Google's CEO Forecasts "Augmented Humanity"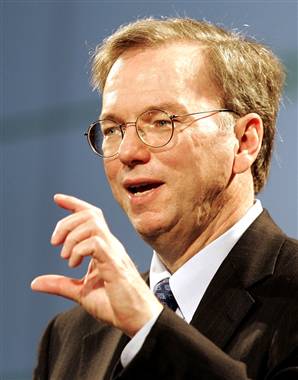 I love reading about the future Google envisions for us, as communicated through its CEO Eric Schmidt. We've all known that mobile is going to be the big key in all of this. How else will you be able to have advertising pushed to you when you're in front of  store that may fit your profile?
But this one makes me laugh a bit, even if it is just the semantics. Speaking during the closing keynote at IFA, Schmidt said:
"When someone asks 'what's the weather like' – what you're really asking is 'should I wear a raincoat' or 'should I water the plants?' He calls this "augmented humanity." The point is to have the searches be more than just relevant, but to tell you what you should be doing, or what you should do next.
Speaking for myself, I'd guess that half the time I look up the weather it is about what I should be wearing. The other half has to do with other things, like will we see a snowfall that might imperil my business traffic, as an example. But I'm sure there are those who would want to wake up and have their mobile device tell them what to wear based on the weather. After all, we're a culture that is becoming increasingly less about making decisions and taking responsibility, and more about following trends.
The other part of Schimdt's new mantra is that that Google is "trying very hard to get you something fast. Never underestimate the importance of fast – speed matters because your time matters."
While true and laudable as a goal, that depends on so many variables in a "supposed" always connected world that I'm not sure what "fast" would actually mean. The one thing we all know now is that, at least in the  US, "fast" comes at a steep price and depends on where you live. I doubt even with newer technology if that will ever change here in the US.
But then perhaps that's why Google is also promising its big play into your living room for this fall. Schmidt says Google TV will roll out later this fall, providing plenty of content to keep consumers riveted to their screens, and of course the advertising.
Again, I'd classify my feelings about all of this as very intrigued and full of questions. But the perhaps someday, I'll have an "Augmented Humanity" app that will help me figure it all out.
Via PC Mag, Reuters, and paidContent.UK