Google's Navigation Application a Tom-Tom & Garmin Killer?
A couple months ago I blogged about why I think personal navigation devices are terminal decline. Today Warner Crocker wrote about the Droid, which comes loaded with a very impressive navigation application from Google. I personally prefer having a dedicated GPS unit in my car, but there's no question that Google's turn by turn directions are far better than anything I've ever seen. Of course being connected to the cloud via your smartphone's 3G connection makes a whole lot of sense rather than paying for a second connection.
A couple of years ago, personal GPS units topped a lot of holiday gift guides. I don't think we'll be seeing many personal navigation devices topping the lists this year.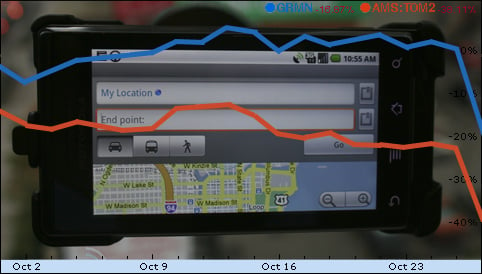 The stock market has definitely taken note of the potential of the new application. Check out this chart I found over at Engadget in a blog post appropriately named 'The game has changed.'