Google's Nexus One Gets Officially Unveiled as a SuperPhone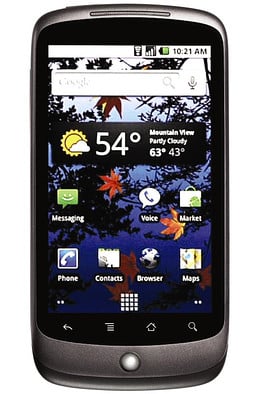 CES2010 is about to kick off and Google is making its promised noise about its Nexus One phone ahead of the circus in the desert. Google today officially took the wraps off the Nexus One phone and how it plans to sell it. From what I'm reading, the phone sounds like a worthy competitor (I'm not sure about that superphone moniker but more on that later) but the plans on how they sell it are, I hope, the beginning of some important changes in the mobile landscape.
Just about everywhere you turn today you can find reviews of the Nexus One. Most of what I'm reading seems positive, there are some quibbles with various bits of the design and functionality. But that is always the case. Here's a quick list of some reviews that I found noteworthy. You can pick up all the specs and dimensions from there.
So, yes, we've got what looks like a very notable new phone on the market. It will push Android further into the mainstream consciousness. And the fact that it is designed with Google from the ground up, by HTC, means that Google means business. Is it a superphone? Well, that moniker is getting tossed around today, and it may be a clever way of distinguishing the so-called next generation of smartphones, but time will tell if superphones as a device category will stick. Visions of tights and red capes abound though and also questions of what's next. (SuperDuperPhones?)
One interesting note that is a theme with Android. No multi-touch. I'm not sure what kind of pound of flesh Steve Jobs holds over Google beyond patent lawsuit threats, but sooner or later Google has to want to challenge that. Multi-touch is possible with the Nexus One, I'm assuming, as it has been with past Android phones. We always here it is there, but just not turned on.
That said, the fact that Google is offering this as an unlocked phone here in the states (at a price of $529) or through T-Mobile at $179 is one of the important facts in my view. The rest of the world enjoys a bit more freedom with unlocked phones. It's time that became a viable option for those of us here in the US. Google's move here may or may not herald the beginning of that change, but it certainly is going to be a noteworthy move in that direction. At the moment, unlocked means T-Mobile, although you can use AT&T but not its 3G network. Eventually this spring, Verizon will sell the phone at subsidized prices as well. But that's in the future.
The website for purchasing the phone is up and running and customers can choose their carrier at the point of purchase. That in and of itself will prove interesting.
The timing and the push for the Nexus One are fascinating in a big picture point of view. Google is making a play here and making it big. Some might bet against them, but I wouldn't.