Google's Project Glass Appears in the Wild (Photos)
Google co-founder Sergey Brin was caught at a Dining in the Dark charity event wearing a pair of the company's upcoming Project Glass glasses, known as Google Glasses.
Earlier this week, Google finally released a video demonstration of the product that it hopes will revolution eyewear. The glasses are an attempt to bring augmented reality glasses to the market at a price that an average consumer could afford.
The video below is an extensive look at what Google hopes to make a reality.
And it appears that the company is on its way to doing just that.
Electronista is reporting that Robert Scoble caught up with Brin who not only showed off the design of the glasses, but also showed off their capabilities as well. Apparently, there were indeed little images popping up in the glasses display.
The demo video shows the glasses as capable of handling quite a few tasks including:
Checking the weather
Checking a calendar
Receiving and responding to a message
Getting alerts and navigation
Setting reminders
Looking up a friend's location
Taking and sharing a photo
Listening to music
Taking and receiving calls
Video chatting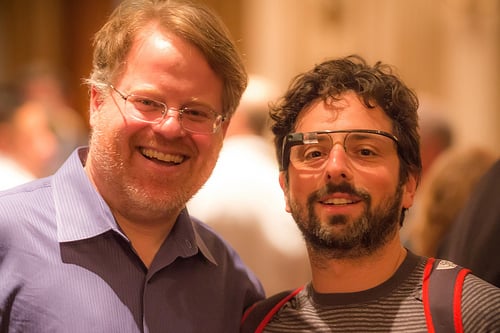 And while Google revealed those, it hasn't yet revealed three of the biggest concerns for consumers.
One, the price, two, whether or not the glasses can operate without a companion device, and three, a release date.
The glasses are rumored to cost somewhere in the neighborhood of $250-600.
Brey was wearing a backpack, but it's unclear if the glasses were connected to something inside.
And the glasses may just end up hitting shelves by the end of 2012, especially since Brin is apparently comfortable enough to venture out into public with them.
Photos courtesy of Thomas Hawk.

As an Amazon Associate I earn from qualifying purchases.