Google's Project Tango Tablet: 3D Mapping of the Creepy Line
Advanced vision, 3D cameras and displays, Google Glass, virtual reality: the tech world seems obsessed with viewing a future that is all about what we see through lenses and sensors these days. The technology behind these innovations is very impressive and continues to bring the world of science fiction closer to reality. But are there practical applications that can translate into benefits for users? According to a report in the Wall St. Journal, Google's Advanced Technology and Project Group is continuing to work on Project Tango, aiming to unveil a prototype tablet with 3D sensing technology in June.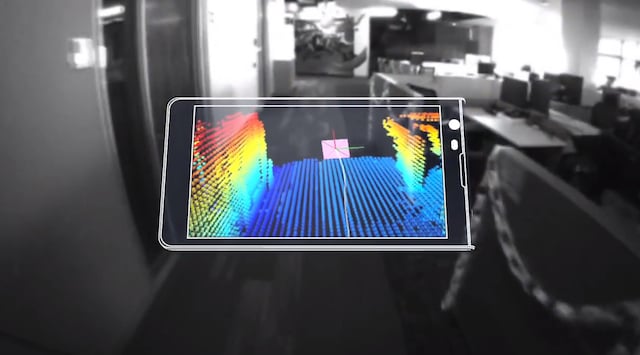 Earlier this year, Google released a Project Tango prototype of a smartphone that contained multiple sensors that was designed to capture a 3-dimensional map of a user's surroundings. That prototype contained a 4MP camera, two computer vision processors along with integrated depth sensing and a motion-tracking camera. The sensors were able to detect and record over a quarter of a million 3D measurements every second.
Now there's word that Project Tango is working on a dual 3-D camera prototype tablet that may be released in time for the Google IO conference taking place June 25-26 in San Francisco.
The company plans to produce about 4,000 of the prototype tablets beginning next month, according to people briefed on the company's plans. The device would come with a 7-inch screen and will be equipped with two back cameras, infrared depth sensors and advanced software that can capture precise three-dimensional images of objects, said these people.
Those who think that taking pictures on a tablet is a ridiculous exercise should note that The WSJ report goes on to say that the idea could be used for "improved indoor navigation for the visually-impaired, step-by-step directions within stores as well as for more immersive video games."
The three categories mentioned above always seem to be in play with talk and speculation about these technologies. Each of the three relate back to a single purpose though.
Certainly, any advance in technology that can be used to help those with visual impairments or impairments of any kind is something to be welcomed. Technology should do those things. When it does it should be celebrated.
Enhanced gaming plays to a market that is always eager to push the technological envelope with something new, given that most gaming experiences and stories within those games are indistinguishable.
Navigation through stores and malls whether for the visually impaired or just the sense of direction impaired is also talked about with these technologies, and that points to the reason we're seeing large investments into these kind of technologies from companies like Facebook and Google.
While we should not dismiss the quality of life improvements that this kind of technology could potentially bring to the table, these investments are all about bringing new visual data to the always hungry data miners simply by tracking the images and data that could be captured. The ability to conduct a search by images has been available for sometime now. But that still requires user input to initiate. Imagine a world of Google Glass, or 3D-mapping cameras on tablets and smartphones that feed back near-constant imagery of what we see or do, what captures our attention, or what causes us to turn away.
It's not hard to imagine an advertising model that would follow. Indeed, that's been the promise all along as companies and consumers skirt and flirt with the "creepy line" between serving targeted advertising and privacy concerns. But if advertising pays the bill to develop these technologies at a quicker pace is there harm? That's a debate that will never leave us.
What's also interesting about the Wall St. Journal's report is that it points up the fact that the technology is ahead of what the practical application of that technology could be. But we've known for some time that there is some existing technology out there (like facial recognition) that those who hold the keys to it don't feel society is quite ready for. It's a tricky line to walk.
If the WSJ report is true perhaps those attending Google's IO conference in June will find prototypes of these tablets under their seats or in their swag bags. Google likes to enlist developers into these kind of experiments for advanced technology and gadgets. So, if you're in San Francisco at the end of June and see a bunch of geeks taking pictures with tablets, you'll know why.