Google's Schmidt: "Tablet of Highest Quality" In 6 Months
According to a report from Notebook Italia (linked to by Slashgear) Google's Eric Schmidt is promising "in the next six months we plan to market a tablet of the highest quality."  He was quoted in an interview with the Italian paper Corrierre della Sea.
He's also promising that voice recognition will be a big part of Google's strategy as well, fueling further the competition with Apple and Siri.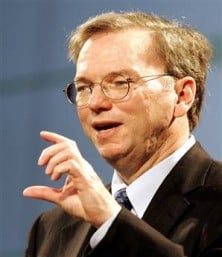 Of course the speculation is that this might be some sort of "Nexus Tablet," similar to the Nexus line of phones Google has introduced with its flavored Android upgrades.
And I'm guessing that the acquisition of Motorola Mobility (that seems to be moving along)  may play into the mix of that as well.
That's all well and good. But I have to ask the question: Why six months? Ice Cream Sandwich is supposed to be the marriage of all things good about the Honeycomb Tablet experience and the Android goodness of Smartphones. (Remember Honeycomb really didn't live up to its promises.) Will it really take six months to move ICS to a well spec'd out Tablet? Is the voice component a part of the delay?
Does this mean that the ICS Android Tablets sure to be on display at CES 2012 should be overlooked? (Let's remember Google and Samsung have been known to shoot themselves in the foot with ill-timed announcements about their intentions in the past.) It certainly should arm bloggers and reporters with some uncomfortable questions for PR reps on the CES 2012 floor.
Or is Schmidt just freelancing? Note that he doesn't specifically say that it will run ICS.
Regardless of what the answers are, it just seems odd to me that Google would be that far out from releasing what many will consider as the reference Tablet for the Android platform. It seems odder still that Schmidt would be saying this just a few weeks before many manufacturers will be talking ICS Tablets at CES.
One thing is for sure. It's going to be an interesting year when it comes to Tablets.