GottaBeFunded: Arctic Flight iPad Case is a Perfect Fit for Flyers
The Arctic Flight iPad case is the most impressive iPad case for travelers and flyers I've seen.
We've seen iPad cases designed to sit on the tray table, but this is the first iPad case that uses the tray table to transform into the ultimate flying companion by mounting to the seat in front of you.
But, the Arctic Flight is not a one trick case, it also acts as a stand on the tray table or a desk that pairs perfectly with a bluetooth keyboard for mobile productivity.
Check out the Arctic Flight iPad case in action in the video below.
The Arctic Flight case is available for the iPad 2 or the new iPad with reward levels starting at $75 with delivery in August and September. The prototype shown in the video above demonstrates everything the iPad case can do on a plane.
The case does not work with other iPad cases, but it does protect the iPad screen when the device is not in use. The final version will be black with additional colors offered down the road.
Anyone who flies often will want to check out this iPad case. Not only is it an awesome way to use the iPad on a plane, it's more ergonomic.
Instead of looking down at the iPad for an entire flight, Arctic Flight places the iPad at eye level for a perfect movie watching experience.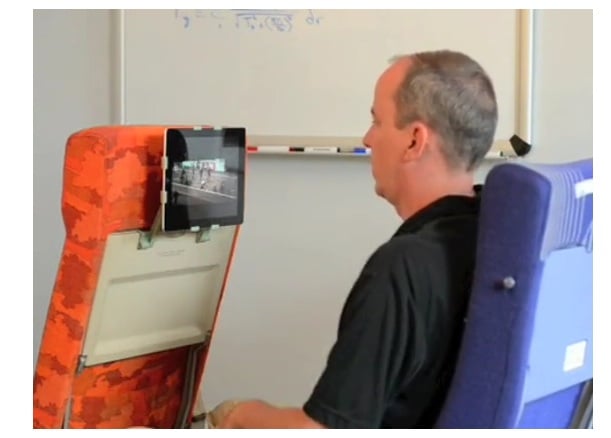 The Arctic Flight iPad stand and cover has 103 backers and early $10,000 of the $60,000 Kickstarter goal. This project runs through June 19th with backer levels at $75 for the iPad 2 and $80 for the new iPad.
Sadly this won't be available by the time I take flight at the end of June, but if there are any prototypes around I would certainly love to take it for a test flight.