GottaBeFunded: Geode – Ridiculously Awesome & Smart iPhone Wallet
There's a race to deliver the best digital wallet for the iPhone and Android smartphones.
Apple and Google are the most likely candidates to deliver, but iCache has taken to KickStarter to win the race and deliver an incredibly awesome digital wallet solution for the iPhone.
Geode, by iCache is a smart iPhone Wallet that has room for a single credit card.
That might sound shortsighted, but it's actually ingenious.
The Geode has a re-writable credit card, complete with an e-Ink display on the back.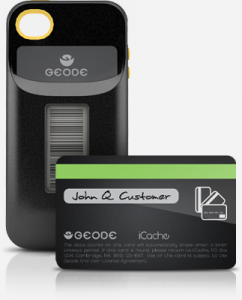 The e-Ink display on the back of the card is visible when the card is in the back of your case, and can be used to display your reward card UPC labels on demand with the Geode app.
Even more impressive is the included credit card that can be instantly turned into any card in your real wallet. Unlike the software only competition, you don't need a specific credit card or a retailer with a NFC enabled credit card terminal.
When you want to use a card, you swipe your finger on the built-in fingerprint reader and the card is written so that you can use it to make a payment. After 20 seconds the card is deactivated to prevent unauthorized use. If your battery is about to die, you can set the card to last longer.
You use the included card reader to add your cards to the Geode app, and there is security in place to prevent someone from using this system to clone your card. The Geode app will show your CCV number if you need it to complete a transaction.
The Geode case fits the iPhone 4 and the iPhone 4S, but won't likely fit the iPhone 5 when it comes out this fall. If you order through KickStarter, you get the iPhone 4S case at 25% off retail, with an expected delivery in June.
When the iPhone 5 is announced, iCache plans to make a version to fit the new iPhone, and will sel it at 50% off to the KickStarter buyers. The expect that the retail cost will be $199.
The is an incredibly cool KickStarter project, and with the discount for iPhone 5 upgraders, an even more attractive option.
You can fund this KickStarter starting at $9, and get a KickStarter starting at $159. The KickStarter Project runs through April 21st with expected delivery in June 2012.
GottaBeFunded is a new series on GottaBeMobile highlighting innovative, exciting and cool gadgets and accessories on KickStarter and other crowdfunding websites. To have your product considered for a future GottaBeFunded article, email [email protected] with GottaBeFunded in the subject line.

As an Amazon Associate I earn from qualifying purchases.