GottaBeMobile Audio Inkshow: A Halloween Treat For Tablet PC Tricksters Everywhere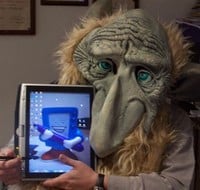 Here's a trick and a treat for you on Halloween. Dennis Rice and I get together once again for another Audio InkShow (and this time he wasn't wearing that Bill Clinton costume) and talk about what's happening in the Tabletscape and what's going on in the GottaBeMobile.com forums. We also wax rhapsodic about Vista and some things to look forward to and some things to be aware of. Here's a list of the news items we hit, followed by a list of the forum threads we highlight.
Download the Audio Inkshow Here (58.0mb, 50:45, mp3 format) or you can subscribe to our Audio Inkshows in iTunes.
GBM Forum threads of note
Leave us comments and let us know what you think!
Thanks to Aubergine for the rocking intro music, Pursuit.
All GottaBeMobile.com InkShows are sponsored by: