GottaBeMobile BIGGIE Contest – "Make me Mobile with Motion"!!!!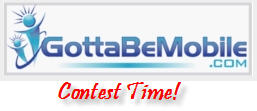 Well, we mentioned a BIGGIE contest, and trust me, this one IS big!!! But it is also small — but wait, don't get confused quite yet.
How about getting in "Motion" with a Motion Computing LS800 Ultra Mobile Tablet PC? In a partnership to help us launch the new GottaBeMobile.com discussion forums, Motion Computing has stepped up to the plate big time and is sponsoring a contest and putting up a brand new LS800 Ultra Mobile Tablet PC as a prize in our "Make Me Mobile with Motion" contest! Do I hear wild screams of delight out there? Yes, I think I do!
Here's how to win. Put together a creative 800-1000 word essay for us on how adding a Motion LS800 to your life will make you more mobile and enhance your personal and/or professional life. Better yet, you ought to include BOTH aspects of life. When we say be creative, we mean VERY creative. For an LS800 prize valued at almost $2,200, you should be willing to work for it! Besides the essay, the use of creative art, video, pictures, whatever you can come up with will be considered within reason, but remember the main concern will be on how this device would influence your life in a positive way. We reserve the right to refuse anything too big or wild. Just remember that the emphasis will be on the essay.
By the way, this is not not just your base model LS800, this is a tricked out high end piece of mobility with lots of memory and hard drive space to spare! Here are the specs on this awesome prize:
Intel ® Centrino ® MobileTechnology components:

Mobile Intel ® Pentium ® M Processor ULV 753 (1.2GHz)

Intel 915GMS Express Chipset

Intel PRO/Wireless 2200BG 802.11b/g networking

1GB of DDR2 RAM

60GB Hard drive

8.4″ SVGA TFT display

Integrated Fingerprint Reader

Integrated Bluetooth ® and IrDA

Integrated Ethernet

Full-size digitizer pen

One-year standard warranty
The guidelines:
Like I said, 800-1000 words – no more or less will be accepted. The essay submission period will last for two weeks from Monday October 9th, until Sunday night, October 22nd. The GottaBeMobile team, along with representatives from Motion Computing will review the submissions and pick the top 5 that we like. Then, on October 27-29, we will run a poll on GottaBeMobile.com's new forum system and let you, our forum members vote for 3 days for the final winner. There will be 5 prizes, and all finalists will receive a prize, but of course only one Grand Prize will be given. We will announce the Grand prize winner on October 30th. Any taxes, fees, etc. are the responsibility of the prize recipients. Please note that due to shipping costs, duties and taxes, etc., this contest is only open to those residing in the United States.
Post your entries to this thread titled, ""Make me Mobile with Motion" by the deadline for consideration. Any questions about supporting files, etc. needed with your submission must be communicated to [email protected] and approved by our team. So get to work, study the specs on this machine and figure out how you would utilize it in your life, and we may just be delivering it to your door!
Special thanks go to Motion Computing for sponsoring GottaBeMobile with this generous gesture. Good luck, and may the most mobile man or woman win!
Open to entrants who are over 18 and legal US residents. Gottabemobile and Motion employees are not eligible. Entries must be received by 10 pm (Eastern Time), Oct 22, 2006. One winner selected from eligible entries. Multiple entries ignored. No purchase necessary to enter or win. Odds of winning determined by number of eligible entries. Winner accepts responsibility for any taxes or fees. Entrants release and hold Motion and GottaBeMobile.com harmless from any liability and by entering agree to these rules. For list of the winners, contact [email protected] Void where prohibited.

As an Amazon Associate I earn from qualifying purchases.