GottaBeMobile guys on the move again, and an R400 is part of the trip ….!
Well, next week at least 3 members of the now 6 person team at GottaBeMobile are on the move again. The destination this time? Back to Redmond and Seattle for the Microsoft MVP Summit. Warner was supposed to join us but his wife wouldn't let him go after that Las Vegas fiasco (of course he says it is a conflict with his day job — yeah, right Warner). Bummer. My wife said I could go, but I had to take her with me. Rob is going alone, but I think his wife thinks he is going on a business trip (lol — what a lie that is). Of course our third member attending will be none other than the now infamous Splotch. I guess he and Rob will have to hang out and this time he'll get Rob in trouble. I'll take pictures. I always take pictures. They come in handy later as evidence.
The Summit is always a great meeting for us, since we get to spend time with the other Tablet PC MVP's, plus all the great team members at Microsoft that make this whole thing called Tablet PC, UMPC, etc. happen in the first place. We generally get lots of information on upcoming things, status of our respective product lines, plans for the future, all that good stuff we won't be able to talk about after we get back (I know, it frustrates us too). There will be lots of good stuff to share though, trust me on that one. This set of meetings is so valuable to the efforts of GottaBeMobile. This is the primary group we use to exchange news, network for information like eval contacts, what's hot and what's not, so on, and so on. It is a great place to be if you are a tech geek. Bill Gates is going to speak to the group, as well as a number of other Microsoft execs who will stand still for Q&A and general abuse from a pretty aggressive and highly technical group of community involved people like ourselves.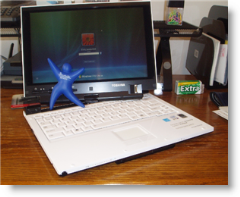 One of the things Rob and I are planning to do while there (in our spare time, like around 3 or 4 in the morning), is to do a good tag team InkShow on the new Toshiba R400. Yes, we have one in our possession, and plan to put it through it's paces, and will likely do a bit of comparison against the Lenoxo X60 as well. I haven't had this machine for long, but I had forgotten how sleek and sexy it is. Ought to be a good show, and we promise to keep the rating to no more than "R"!
So it should be a good trip for us, for GottaBeMobile, and hopefully for you our GBM loyal and faithful!
Microsoft, here we come!
(no Splotch, you cannot go live with Bill and be the richest mascot in the world).

As an Amazon Associate I earn from qualifying purchases.