GottaBeMobile Hardware InkShow: Mobile Demand's Rugged xTablet T8600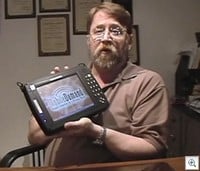 We focus primarily on the consumer side of things here in our InkShow reviews at GottaBeMobile.com, consquently we don't get a chance to check out rugged Tablet PCs very often. So when the opportunity to bang around a new piece of rugged gear comes along, we jump on it. (Sometimes literally.) Mobile Demand's xTablet T8600 is not only a rugged beast, designed to take the punishment a mobile worker can dish out, but it is a very well thought out hardware solution that can offer any vertical market enterprise looking to make the process of capturing data and customer interaction more efficient and more effective.
The good folks at Mobile Demand were kind enough to send us not one, but two of their new Tablet PCs to review. In this InkShow we take a look at the basic unit and a tricked out model featuring a bar code reader and a magnetic stripe reader (according to Mobile Demand, it is their best selling unit). The T8600 runs Windows XP and comes equipped with both an active digitizer and a selectable touch screen, in addition to a numeric keypad built right into surface of the device, so there are a range of methods to enter and capture data.
In this Hardware InkShow I take a walk-around tour of the T8600 Tablet PC, demonstrate the Inking and touch features, and the numeric keyboard and the options it affords. And yes, I drop it, toss it around, and, with the help of a special lovely guest, give it a shower. This xTablet can take a licking and keep on ticking, to use but one well worn cliché.
I'm very impressed not only with the Tablets I got to check out and what they offer, but Mobile Demand's vision of a total cost of ownership approach. In my view, a key to future growth in the Tabletscape is going to come from vertical markets. Whether it be sales, manufacturing, real estate, the entertainment industry, etc Mobile Demand has come up with a package and an approach that looks to speak to a variety of needs regardless of the specific market segment.
I'm not going to take up a lot of space here listing specs for the xTablet or chronicling the rugged specifications that the T8600 meets. Instead, I want to encourage you to check out Mobile Demand's website and see for yourself. There is a great video there (although their assistants aren't quite as cute as mine) showing off not only the product, but quite a bit about the design process behind it. And make sure you check out the vehicle and mounting cradles. Well worth a visit whether you are a potential customer or not. In fact, I can think of one or two consumer orientated Tablet PC OEMs who could learn a lot from the folks at Mobile Demand.
Watch or download the High Res version (26:43 minutes, 383mb, Windows Media streaming or direct download)
Check out more on Mobile Demand Products
Enjoy!
All GottaBeMobile.com InkShows are sponsored by:

As an Amazon Associate I earn from qualifying purchases.