GottaBeMobile Hardware InkShow: The Gateway E155C Convertible Tablet PC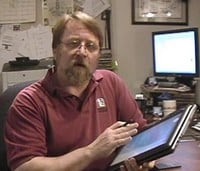 Gateway's newest Convertible Tablet PC, the E155C, is one that I predict, if Gateway follows its previous marketing strategies for the M280/285, will become a very popular choice, especially among first time Tablet PC buyers. Aiming at the student and professional markets, this solidly designed Core 2 Duo Multi-Touch Tablet PC has a lot to offer.
I'm particularly impressed with the implementation of the Multi-Touch screen and very glad to see that Gateway has decided to once again embrace Wacom technology for the digitizer and the pen. It works as advertised and does so quite well. In my opinion the Inking experience is top notch. I'm also very impressed with the brightness of the backlit screen, (even though it causes some interesting lighting effects in the filming of the InkShow.) I did check out the screen in sunlight (although not shown in this InkShow) and it is indeed very readable in sunlight.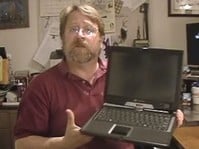 Billed as the Thin and Light Convertible Tablet PC, the E155C weighs in at 4.5lbs with the included 4–Cell battery, which in my book doesn't make it the lightest Tablet PC on the market. That said, it is light enough to tote around in a back pack or briefcase without being too burdensome.
In this Hardware InkShow I take a walk-around tour of the Tablet PC and show you the widescreen and Multi-Touch features. Keep in mind the unit I am reviewing is a pre-production model so the software load and some features may be different from models that begin shipping. This review unit came with Vista Ultimate pre-loaded. Note also that Gateway is planning to release a consumer or home version of this convertible labeled the C-120X at a point in the future.
Here are some specs:
Intel Core 2 Duo U7500 Ultra Low Voltage Processor 1.06GHz (U7600 1.20GHz available after launch)

Utilizes the Intel 945 chipset supporting PCI Express with a fast 667 MHz front side bus (system memory runs at 533MHz)

Supports up to 667MHz DDR2 memory; expandable up to 4GB with two SO- DIMMS (system memory runs at 533MHz)

SATA 5400RPM hard drive in 80GB or 120GB capacities; (Select models will include accelerometer technology that protects hard drives from damage due to drops; feature available by end of Q2)

Integrated multi-format double-layer DVD-R/RW with DVD-RAM. (A CD-RW/DVD combo drive will be available after launch)

Dimensions: 11.9" (W) x 9.9" (D) x

1.17" (H)

Weight: Approximately 4.5 pounds with the 4-cell battery.

Weight will vary based on battery and configuration

12.1-inch WXGA widescreen TFT Active Matrix Display (1280×800 maximum resolution) with 200 nit luminescence and CCFL Backlight

Anti-reflection polarizer for usability in sunlight

>

>>>Watch or download the High Res version >(29:46 minutes, 227mb, Windows Media streaming or direct download)

Check out more on the Gateway E155C Convertible Tablet PC

>Enjoy!

All GottaBeMobile.com InkShows are sponsored by: