GottaBeMobile Hardware InkShow: The Gateway E295/C-140X Convertible Tablet PC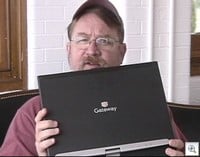 Gateway's newest Convertible Notebook (Tablet PC), the E295 or C-140X, adds some heft to the Tabletscape. In many ways the E295/C-140X appears to be a refresh of the M280/CX200 but there are some fundamental differences. First and foremost, the active digitizer is made by Wacom as Gateway appears to have gone away from the FinePoint technology of the earlier model. That's a good thing. In my testing the Inking experience is quite good. Second, what's under the hood has been upgraded. There are several Intel Core 2 Duo processor options available ranging from the T5250 at 1.50GHz up to the T7700 at 2.40GHz. Third, you can configure your graphics option to use Intel GMA x3100 Graphics or an ATI Mobility Radeon X2300 card for those who want dedicated graphics. Gateway offers a range of choices and we all know choice is a great thing when it comes to Tablet PCs, or Convertible Notebooks for that matter.
Those different model numbers refer to Gateway's marketing approach. The E295 is aimed at the business customer and the C-140X is aimed at the consumer and student market. The review unit I'm testing is labeled as an E295 and comes with XP installed. On the product page for the C-140X, you can choose XP or Vista. Fundamentally the hardware is the same, although some of the configuration options are different depending on where you buy. Remember Gateway had a great presence in the Big Box retail outlets with the earlier models, which I am hoping they will do again with this model. Let me repeat that in case it was too subtle. I really hope Gateway gets these devices into big box retail outlets.
Gateway also offers several different battery options available a 6—cell, 8—cell, and a 12—cell. the 8—cell is what they list as the standard option. One thing you won't find on the product page are battery life expectations for the various batteries. (You will see a projected 10 hour battery life using a combination of the 12—cell battery and a 6—cell modular battery.) The review unit I'm testing came with the 8—cell battery installed and on boot up listed 5.25 hours available. I obviously have not had the time to really test the batteries out and I've sworn off of the guessing game of projecting battery life as it just takes some time for things to really settle in and give you an accurate reading. I've also sworn off of benchmark testing on new units because in my opinion they don't give you any real feel for how a device is going to work for you. That said, in running some very basic testing, this 1.8GHz unit running XP handled everything I threw at it very well and quite speedily. Boot up and return from sleep and hibernate were snappy.
As I say in the InkShow, I wouldn't call this a mobile device. At least not the way I define them. In the standard configuration it will weigh in at 6.84lbs. With the 12—cell battery and the ATI graphics card it will boost up to 7.3lbs. This is really a desktop replacement Tablet PC, er Convertible Notebook. With that in mind, I think Gateway has developed a very sturdy notebook that has Tablet PC functionality. The E295/C-140X offers a range of configuration options that provides the power and functionality that can handle most needs, outside of the mobility factor. Remember if you're looking for a lighter widescreen option (and one that includes both touch and an active digitizer) Gateway offers the E155C/C-120X series. You can check out our InkShow on that model here.
In this InkShow I take a tour of the Convertible Notebook, showing that Gateway is continuing the less is more trend when it comes to buttons on the device. I also show a size comparison and a bit or two about the WXGA screen.
Several readers have asked some questions that I've put to the Gateway reps and I'm awaiting answers. When I get them, I'll post them up. In the meantime, feel free to ask others if you have them.
For specs on the review unit I'm testing check this post.
UPDATE: For those who asked, the digitizer on this model comes with 256 pressure sensitivity levels.
Watch or download the High Res version (22:38 minutes, 172mb, Windows Media streaming or direct download)
Enjoy!
All GottaBeMobile.com InkShows are sponsored by:

As an Amazon Associate I earn from qualifying purchases.