GottaBeMobile Hardware InkShow: The Nokia N800 Internet Tablet

The Nokia N800 Internet Tablet is the follow up to the much ballyhooed N770 Internet Tablet PC and it has gotten just as much attention if not more so. One of those chronicling every detail about the N800 is Thoughtfix and we'd like to extend a very special thanks to Thoughtfix for giving us the opportunity to check out the N800.
Nokia's Linux based Internet Tablet PC is just what the name says it is. It provides a handy and very small mobile solution to surfing the web, checking email, VoIP and chat, and listening to media. Is it an Ultra-Mobile PC? Well it is ultra mobile given its very impressive diminutive size, but it doesn't have the horsepower of its larger cousins. Is that an issue? Depends on what you need to do in your mobile lifestyle. Choosing the right mobile device for your scenario is all about personal choice, and I can see any number of situations where this could be a very attractive on the road solution. Intriguingly, as I was preparing this InkShow and news began to trickle out of the Intel Developer's Forum about the potential of Linux based ultra-mobile devices it looks like Nokia might be ahead of the curve. Time will tell.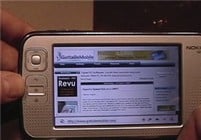 Nokia is well regarded for their design prowess and this device will certainly add to that reputation. (Although I do have one big quibble that you'll discover in the InkShow.) In this quick peak InkShow, I take a quick tour of the N800 and show off some of its features and some of the included software. There's plenty more Open Source software to be had if you want to load up your device and quite an active community exploring it on maemo.org. There's also a good deal of configurability for how you may want to set up the device. I kept things pretty much as they came out of the box, but you can move, add, or edit modules to your heart's content and design the screen the way you want it to be. Also, (and I thought I had filmed an example of this but in final review it must be on the digital editing room floor somewhere) there is a nice touchscreen feature. Depending on what application you are using the screen can sense if you are using your finger or the stylus and adjusts the target area accordingly. Nice touch.
Is it the device for me? I don't think so. I need a little more horsepower and better inking ability. Is it for you? You'll have to make that decision. Watch the InkShow to get a flavor of what the N800 has to offer and check out the links below for more information.
Here are some specs on the Nokia N800 Internet Tablet:
Battery life: Up to 5 hours in operation, up to 10 days on standby

Weight: 7.27 ounces

Height: 2.95in

Width: 5.7in

Thickness: 0.5in

Price $399

Check out a full list of features

here

.
Another great source of N800 information is Michael Connick who is chronicling his N800 experiences here and on Twitter. He's really exploring a number of usage scenarios with the N800.
Enjoy!
All GottaBeMobile.com InkShows are sponsored by: