GottaBeMobile Hardware InkShow: The TabletKiosk Sahara i440D Slate Tablet PC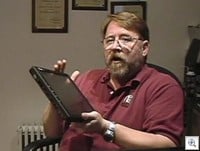 Slate Tablet PCs aren't for everyone. Or at least that's what the market seems to think, which is why the market is overwhelmingly populated with convertible Tablet PCs. But TabletKiosk is a big believer in the slate Tablet PC and the Sahara i440D certainly proves that they know what they are doing. I've never been a slate Tablet PC user due to how I work. But getting a chance to spend a couple of weeks with the Sahara i440D has opened my eyes up to the possibility for some point in the future.
The Sahara i440D I evaluated is running Vista Business and has a Dual-Mode screen offering the user the ability to shift between touch and an active digitizer at the touch of a button. Both modes operate as advertised and I have to say that I find TabletKiosk's method of dual screens preferable to the other Tablet PCs that offer both touch and active digitizers. The i440D is running an Intel Core Duo LV 2500 processor rated at 1.83Mhz, so it isn't the fastest Tablet PC out there, but I was impressed with its speed and performance. It handled Vista as well as any other Tablet PC I've had my hands on. I was also impressed with the size, weight, and construction of the slate. It feels very natural to take notes in either portrait or landscape modes. Note that TabletKiosk's Sahara slates come in black or white.
The XGA screen (1024×768) is clear and works well,though not as bright as some we've seen on convertible models, but it will do the trick. I did notice that there is an issue with parallax due to the multiple layers on the screen. Over the course of the two weeks I was able to get on average over 3 and 1/2 hours of battery life with the included 6 cell battery. Pairing the device up with Bluetooth peripherals was a snap, and of course you can use USB peripherals if that is your preference.
Keep in mind, this is my first time really spending time with a slate Tablet PC, so my opinions here should be taken in that context. I can see how this particular slate Tablet PC with its Dual Mode screen could work very well in a number of scenarios, especially if you're using a docking solution when you are back at your desk.
A big thank you to the good folks at TabletKiosk for giving me the opportunity to evaluate this Sahara i440D slate Tablet PC.
Watch or download the High Res version (19:40 minutes, 149mb, Windows Media streaming or direct download)
And here's the flash version from Blip.tv.
Enjoy!
All GottaBeMobile.com InkShows are sponsored by:

As an Amazon Associate I earn from qualifying purchases.