GottaBeMobile Inkshow Interview With Developer Ed Holloway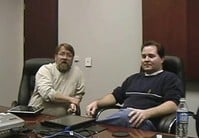 Dennis Rice and I had the great pleasure to sit down recently and talk to Tablet PC developer Ed Holloway for an interview. In case you haven't been paying attention, Ed Holloway is quite active on a number of fronts when it comes to developing ink applications. As the co-founder and CTO for Field2Base he is instrumental in the development of that forms application as well as the new Forms2Base application that was recently released.
Ed is also the man behind the Ink Blog Plug-in for Windows Live Writer and the new Ink Search Tool (which just went into Beta 2.) Take a few minutes and check out our interview with Ed about Field2Base and his other inking exploits.
All GottaBeMobile.com InkShows are sponsored by:

As an Amazon Associate I earn from qualifying purchases.