GottaBeMobile November InkShow and Podcast Roundup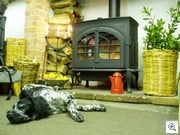 Winter is fast approaching and a great way to prepare for the cold days ahead is to store up some GottaBeMobile.com InkShows, Shortcuts, an Podcasts for those cold and snowy days when you just want to sit bundled up by a warm fire. November was a month full of GBM video and audio action, so you're got lots to choose from. We covered the gamut from CradlePoint Technology's Celluar Router to a show down on the OQO Model 02 between an SSD drive and a Hard Drive. We took a look at the Vye S37, and Warner's wife got into the action with a look at the Asus Eee PC. The Podcasts kept coming even if the ""Old Man" of the team kept complaining, and Rob took some good looks at the Amazon Kindle in GBM Shortcuts. So check out the November lineup and let us know your comments.
All GottaBeMobile.com InkShows and Podcasts are sponsored by:
GBM November InkShows
GBM November Shortcuts
A triple take on the Amazon Kindle and a look at the Asus Eee PC.
GBM November Podcasts
November was also a month for some fun GBM Podcast action, as somehow, the young whipper snappers who work for GBM get the silly notion that Warner is some kind of Old Guy. We only managed to squeeze two podcasts out in the month, (we were busy preparing Thanksgiving feasts) but we'll be back in all our glory in December.
You can subscribe to our GBM Podcasts on

This article may contain affiliate links. Click here for more details.