GottaBeMobile Podcast #24, "MVP's, and where it all started"!
So much people news this week! New Microsoft Tablet PC MVP's and a new Podcast era begins at GBM, and of course, Tablet PC and UMPC discussions. In this weeks segment, GottaBeMobile site owners, friends and compadres Dennis Rice and Rob Bushway chat it up about all the happenings, but also give some background on where it all began, and some history of Tablet PC communities and experiences. Oh, and by the way, we also spend a little time talking about Tablets and UMPC's!
This week marks the first of a news series of Podcasts for the GBM team as we break out this process into a new content section. Keep an eye on this process folks, we are gonna shake it up a bit with more team members being involved, the occasional guest, possibly some video blogcasting (shhh Dennis – that was a secret we are working on – Oops, sorry, never mind folks). It should be interesting to see and hear what Team GBM can come up with in the future! We are working on a new name for our Podcast, so send forth your suggestions!
News items this week: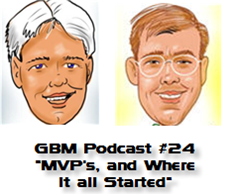 Forums Discussion:
HomeBrew WWAN for the LE1700 (Graye)

First thing to do with an X61 (Xedden)

Adventure in losing one's stylus (Doggie)
Main Topic this week:
Dennis and Rob discuss some Tablet community history, and about GottaBeMobile's beginnings
Download or listen to the Audio Inkshow Here (45mb, 49:46, mp3 format) or you can subscribe to our Audio Inkshows in iTunes.
Hope you enjoy the show.
Stay tuned next week for more Podcasting fun with GottaBeMobile!

As an Amazon Associate I earn from qualifying purchases.