GottaBeMobile.com evaluating X60 SXGA+ Vista Tablet PC
We love evaluating Tablet PCs, especially those with OEM Vista Builds. Lenovo sent each member of Team GBM an evaluation unit of the X60 Tablet PC with SXGA+ running their OEM build of Vista Business. Vista Business is now available as an operating system choice for the X60 Tablet PC and it is $20 cheaper than the XP operating system.
Look for some insightful findings from each member of the team over the next couple of weeks to a month. We'll also be participating in the Lenovo forums with some Vista insights.
My first impressions: SXGA+ on the X60 Tablet PC totally rocks! The screen is beautiful and very crisp – the best on a convertible tablet that I've used yet – period. Aero runs really well, which I keep turned off as matter of preference. All of the built-in ThinkVantage utilities work very well and as expected. Battery life with Vista, though, is suffering. I was hoping things would be different with OEM builds so I've not talked much about it. I've noticed considerable drops in battery performance with an M400, Gateway CX2724, and now the X60. For example, I was getting about 5 to 6 hours with an 8 cell battery on the X60. I'm now getting about 4 hours using the ThinkPad default settings, about 5 hours on PowerSaver.
Here is the performance index on my x60 running 2gb of ram and a 100gb 7200rpm harddrive. The Intel 945GM Express Chipset brings the index for gaming and graphics down to 3.2 and 3.1 respectively, which should be the case on most convertible tablet pcs today.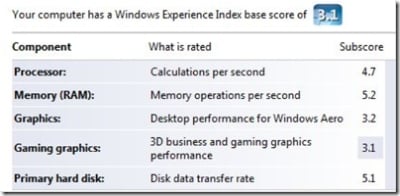 Special thanks to Lenovo for sending us these eval units and letting us post about our experiences – both positive and negative.
UPDATE: People are upset at Lenovo that we received evaluation units while others are still waiting to get their SXGA shippments that were ordered back in November, and that is totally understandable considering the SXGA shipping issues. Lenovo is shipping SXGA+ units at this time, although not everyone has received their order yet. It might help knowing that the units we received to evaluate appear to have been used for QC testing. These are not machines pulled from the production floor. They didn't send us evaluation units instead of shipping customers their systems.

As an Amazon Associate I earn from qualifying purchases.