GottaBeMobile.com Inkshow: Going Mobile on a Segway with Skip Coghill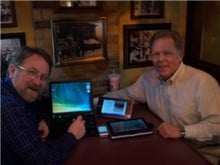 The grand tour continues and and while in Chicago, I had a chance to hook up with GBM Forum member Skip Coghill. We headed for a real Chicago treat, Chicago style hotdogs and Italian Beef at Portillo's and talked about our gear. Skip is giving the Fujitsu P1610 Tablet PC a try and we drew quite a few looks with the P1610, the Lenovo X60, the Asus R2H, and the PPC6700 laid out on the table. We solved some of his vectoring issues on the P1610 (ah, those pesky fingernails), and had a great time. After our gadget and food feast we headed to an empty school parking lot and Skip gave me a lesson on going mobile with a Segway. Talk about a blast! Once I got used to the Segway, I was off and running (though at slow speed) and we filmed this little video clip to share.
Skip really knows how to use mobile technology in his work. He's a paving contractor and uses downloaded imagery from Google Earth to work with his clients. He also uses the Segway to measure out the parking lots he's working with. . He also has a nice rig in his car for heading between job sites. I'm hoping Skip will write up a feature for GBM on how he integrates mobile tech in his work.
All in all a great time talking tech and toodling around on the Segway. Thanks Skip for hooking up with me while in Chicago, buying lunch, and giving me a chance to scoot on the Segway.
Watch the video here (1.40 minutes 17.1mb wmv format.)>
Enjoy!
All GottaBeMobile.com InkShows are sponsored by:

As an Amazon Associate I earn from qualifying purchases.