GPS Apps Demonstrate the Connectivity Gap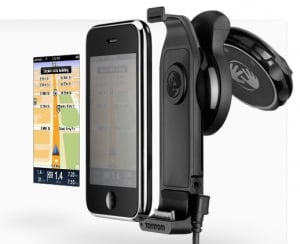 Today's (or yesterday's depending on where you are located) release of the TomTom GPS app for the iPhone (not the iPod Touch) was much anticipated and I'm sure we'll hearing from users who've been waiting to plop down some dough for this app. It will cost them $99 and there's still info to come on a complete car mounting/charging/speaker/app solution still to come from TomTom, which will obviously be more expensive.
As far a pricing goes, $99 puts the TomTom app on the high end of iPhone apps   and even other GPS apps for that platform,   (Navigon is currently $69.99 going up to $99.99 after an introductory period, Co-Pilot Live is $34.99), but not necessarily in relation to stand alone GPS devices. I'm sure that's the thinking behind the marketing strategy, and it makes sense.
What's interesting to me though is this. TomTom, like several other apps, include the mapping data as a part of the app. It all gets downloaded to your phone, so you don't need a data connection to keep things moving on the small screen. AT&T's own navigation, the AT&T Navigator, takes a different route. It is a free app, but you pay AT&T $9.99 a month to use the service. That service is where the maps come from, so if you are in an area with a data connection, or you lose your connection, you're down and out. If you're looking for continuous reliability it seems to me that downloading a stand alone app (no data connection necessary) is the way to go, and TomTom and others are banking on you paying a little higher freight for that data free reliability. Of course if the AT&T's network was anywhere close to fulfilling its promise, this wouldn't be as much of an issue. Of course you still need a data connection to take advantage of some of the GPS features in these other solutions for things like Points of Interest, and local businesses as well as updates.
Using GPS is not that big a deal for me in my travels and I'm able to get by without the turn by turn features 90% of the time, so I don't think I'll be adding a GPS solution to my iPhone. I'll probably rely on the Google Maps features built into the phone.   But I'm curious about how others who GPS more frequently score these solutions for their own use.   Let us know in the comments.